Keely's work, for the most part, has been lost to science and society. He discovered and developed what appears to be entire fields of science so advanced for his time period it was not recognized for what it was. Today we can look back with near 20/20 vision and identify some of what he discovered and developed. It would further appear these accomplishments are "firsts" in that Keely was the first to discover and/or develop these inventions, machines and processes. Was John Keely then the greatest scientist and discoverer of all time superceeding the accomplishments of Newton, Tesla and Einstein? It would appear so.
"It is certain that in the future as in the past," writes
M. Lucien Poincare
, "the most profound discoveries, those which will suddenly reveal regions entirely unknown, and open up perfectly fresh horizons, will be made by a few men of
genius
who will pursue in solitary
meditation
their stubborn labour, and who, to verify their boldest conceptions, will doubtless require only the most simple and least costly methods of experiment." [
Gustave Le Bon
,
The Evolution of Matter
, page 275]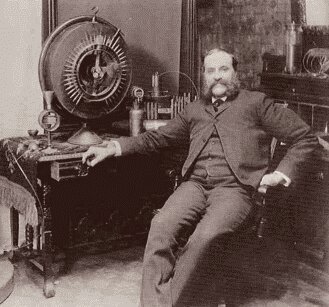 John Worrell Keely, 1827-1898
"Not long since, Canon Wilberforce asked Keely what would become of his discovery and his inventions in case of his death before they became of commercial value to the public. Keely replied that he had written thousands of pages, which he hoped would, in such an event, be mastered by some mind capable of pursuing his researches to practical ends; but in the opinion of the writer, there is no man living who is fitted for this work." [Bloomfield-Moore in The Key to the Problems. - Keelys Secrets]

Keelys Lost Books
---
Some of Keely's many accomplishments
---
Did Keely invent the ignition magneto for Ford's Model "T"?
It's possible but not likely. Keely died in 1898 while the Model T went into production nine years later in 1908. Of course the magneto would have had to been invented and built before that production time and Ford did make earlier models of cars. Wikipedia says Simms and Bosch invented the first ignition magneto.
see Chronology, Keely Chronology
Henry Ford became an engineer with the Edison Illuminating Company, 1891.
Nikola Tesla invents high-voltage Tesla Coil, 1891.
Henry Ford makes first self-propelled vehicle June 4, 1896.
Keely died in November, 1898.
Frederick Richard Simms in partnership with Robert Bosch were the first to develop a practical high-tension magneto, 1899. [wikipedia, ignition magneto]
Magneto ignition was introduced on the 1899 Daimler Phoenix. [wikipedia, ignition magneto]
High voltage magnetos to fire the spark plug directly, similar to coil ignitions, introduced by Bosch in 1903. [wikipedia, ignition magneto]
Henry Ford's "Model T" first production August 12, 1908
---
If
Keely
invented the magneto for
Ford
it was before 1896 when
Ford
built his first car and
Keely
was still alive. This is possible but until substantiating evidence is found this story will have to remain in the category of
unsupported rumor
.
---
See Also
---
Atomic Dissociation
Chronology for dates when the above occurred
Clara Jessup Bloomfield-Moore
Dissociation
dissociation of matter
Eye Witness Accounts of Keely's work, experiments and demonstrations
Keely
Keely - Historical Documents
Keely and His Discoveries
Keely Chronology
Keely Supported by Eminent Men of Science
Keelys Contributions to Science
Keelys Discoveries
Keelys Forty Laws
Keelys Lost Books
Keely's Machines photo gallery
Keelys Mechanical Inventions and Instruments
Leidy and Wilcox Visit Keelys Lab
Molecular Dissociation
Particles and Corpuscles
quantum chronology
Some Truths about Keely
Splitting Atoms and Molecules
splitting the atom - Keely
Was Keely a Fraud
19.07 - A Modern Wizard The Keely Motor And Its Inventor
---
Please make a donation to the development and maintenance of the SVPwiki that this awesome science and philosophy can be made practical and of benefit to humanity.