Also known as
Celestial Sympathetic Radiation
,
Celestial Luminous
,
Light
,
Life Force
,
Mind Force
,
Light of Mind
. This is the
force
,
syntropically
active through
space
, that develops into every thing and all forces and energies we know. This is the unseen and unsuspected active agent in the so-called
vacuum
of
space
but is neither.
Celestial Radiation
is a
scalar
(
non-observable
)
cause
of all
observable
phenomena and
matter
. [see
Scalar
,
Trinity of Matter and Force
]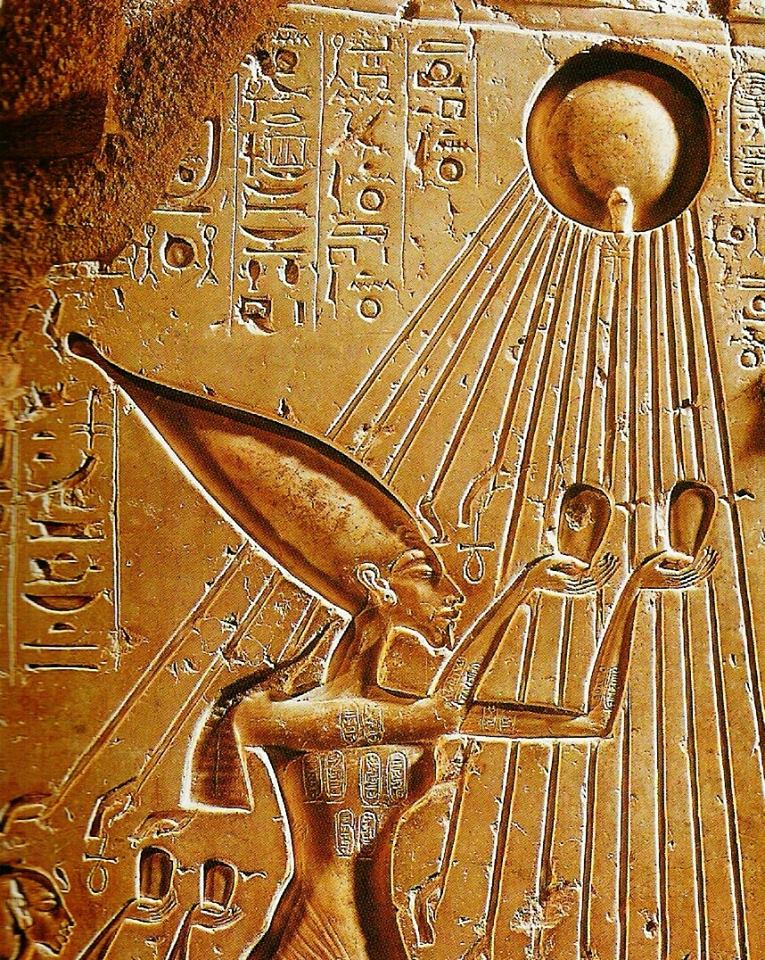 Celestial Radiation
Keely
"The aerial propeller has a sympathetic polar accumulator and disperser in one instrument, which is entirely distinct from any of the devices intended for terrestrial use; also other mechanical adjuncts not needed on land nor water.
All forms of non-sympathetic machinery have, associated with them, conditions of centrifugal force on the ratio of the velocity induced; the diverging power from the center of induction being governed specifically by its gravital weight according to the diameter it occupies in its circle of rotation.
In a sympathetic negative circuit this order of conditions is reversed; for the power of neutral attraction draws the molecules of any mass, no matter what the weight, toward the center of rotation (instead of toward its periphery) according to the intensity of the negative vibration that is induced upon that particular circle.
Our earth, in its routine of revolution, is governed by the same law in every particular; its mass tending toward its centre of neutrality with a force that is equivalent to the character and velocity of its rotation.(3) If its rotation were increased, the tendency of everything associated with it would be increased toward its centre of neutrality on the same ratio. That is, a pound in weight would, under certain conditions of increased velocity, become two pounds in weight. The laws governing the sympathetic rotation of vibratory machinery are the same laws that govern planetary suspension. To those who have not witnessed the operation of my devices, my theories must indeed seem wild; but the laws of nature are the same yesterday today and forever. They know no change; and sympathetic physics, demonstrated mechanically, must triumph over all ridicule and opposition in the end. To contradict the laws governing sympathetic rotation is to contradict the laws governing planetary suspension, as I am prepared to demonstrate.
If the earth were rotated on a shaft by mechanical force, the present condition of its rotations would be reversed; everything on its surface would fly off at a tangent, on the ratio of the velocity induced. The equilibrium of all things would also be changed.
The gyroscope reveals astounding facts in relation to this philosophy, even when operated mechanically. No other known device is so nearly associated with sympathetic vibratory physics.
The vitalization of the disks for the polar and depolar field is established on the ratio of thirds, sixths, and ninths; the ninths being the circuit occupied by the polar field, must represent, in the scale of vitalized focalized intensity, 100 in my system: sixths in the depolar field, or 66 2/3; and in the neutral field, or thirds, 33 1/3. The triplets must represent one true chord of equation. The sympathetic transmitter transfers any degree of intensity desired from zero up to disintegration; all the transfers being made above the line of the first inaudible, as associated with my resonating system of transfer. On the sixths and ninths, in the progressive triple subdivision of the elements (4) of water, the nearest sympathetic approach is made to the high luminous, which is the main sympathetic link to the earth's polar negative envelope, and the one whereby coordination is effected for commercial work. In short, this progressive condition establishes the necessary association between celestial radiation and terrestrial outreach, in regard to controlling the polar negative attractive force in mechanics; whether for aerial navigation or for terrestrial commercial work, in all its multiplied forms.
The atmospheric envelope of our earth owes its activity and its volume entirely to celestial radiating forces.(5) Reception and dispersion are kept up by atomic and interatomic conflict between the dominant and enharmonic currents of the triune polar stream. The harmonic and enharmonic current with the dominant (in the electric stream) by their sympathetic association evolve the energy of matter.
The mechanical proof of the correctness of my theories, in sympathetic or spiritual physics, is so overwhelming in its simplicity that it needs but to be witnessed to convince the most learned or the most simple mind that this system will place both science and commerce on a platform which will elevate each to a level far higher than those they now occupy." [The Operation of the Vibratory Circuit]
"If Keely is able to establish his theories, physical science will have to abandon the positions to which she clings, and forced to admit that there exists a purity of conditions in Vibratory Physics unknown in mechanical physics, undreamed of even in philosophy; for he will then be in a position to demonstrate the outflow of the Infinite mind as sympathetically associated with matter visible and invisible." [Progressive Science]
"The substance of the brain is molecular. The mind which permeates the brain is interetheric in substance; it is the element by which the brain is impregnated. This element, when excited into action, controls all physical motion as long as the necessary sympathetic conditions are maintained. These conditions are no more immaterial in their character than are light and heat. Electricity, magnetism, gravity, and heat are latent in all aggregations of matter. They are not obtained from terrestrial influences. Celestial radiation is the true impregnating medium in all these forces. The brain is the high resonating receptacle where the sympathetic celestial acts, and where molecular and atomic motion are induced, as according to the intensification brought to bear upon it by celestial radiation." [Keely, The Operation of the Vibratory Circuit]

"Life begets life; the celestial life begets the terrestrial life; the God-life begets the man-life. Celestial Radiation is the pure soul of all matter, both earthy and gaseous. Thus we are linked in all our environments to the divine, our cerebral aggregations being the highest medium whereby celestial sympathetic reflection associates with our organisms, and is our only source of knowledge of ourselves. We have, with our mental and physical forces, a duality of action which, when combined with the celestial, makes up the triplet or trinity. With the mental, the superficial visible, or outward sight; with the inward, or spiritual invisible, we have the spiritual link connecting mind and matter, the order of transfer being:
"First. Celestial Radiation, or etheric.
"Second. Mental impregnation, or interatomic.
"Third. Physical movements, or intermolecular.
"Or again:
"Ninths. Sympathetic transfer from the celestial luminous.
"Sixths. Sympathetic impregnation of matter.
"Thirds. Physical movements." [Keely, Newton of the Mind]

"The love of life, or the continuity of love, of life, as expresses itself in a creative force or God, that shows its manifestations in the manner in which such an individual treats his fellow man, is such that makes for the advancement, the stabilizing of individuals... For, as is expressed, the love of God as it expresses itself in the manner of mien of an individual towards his fellow man is only a practical thing." Cayce (520-4)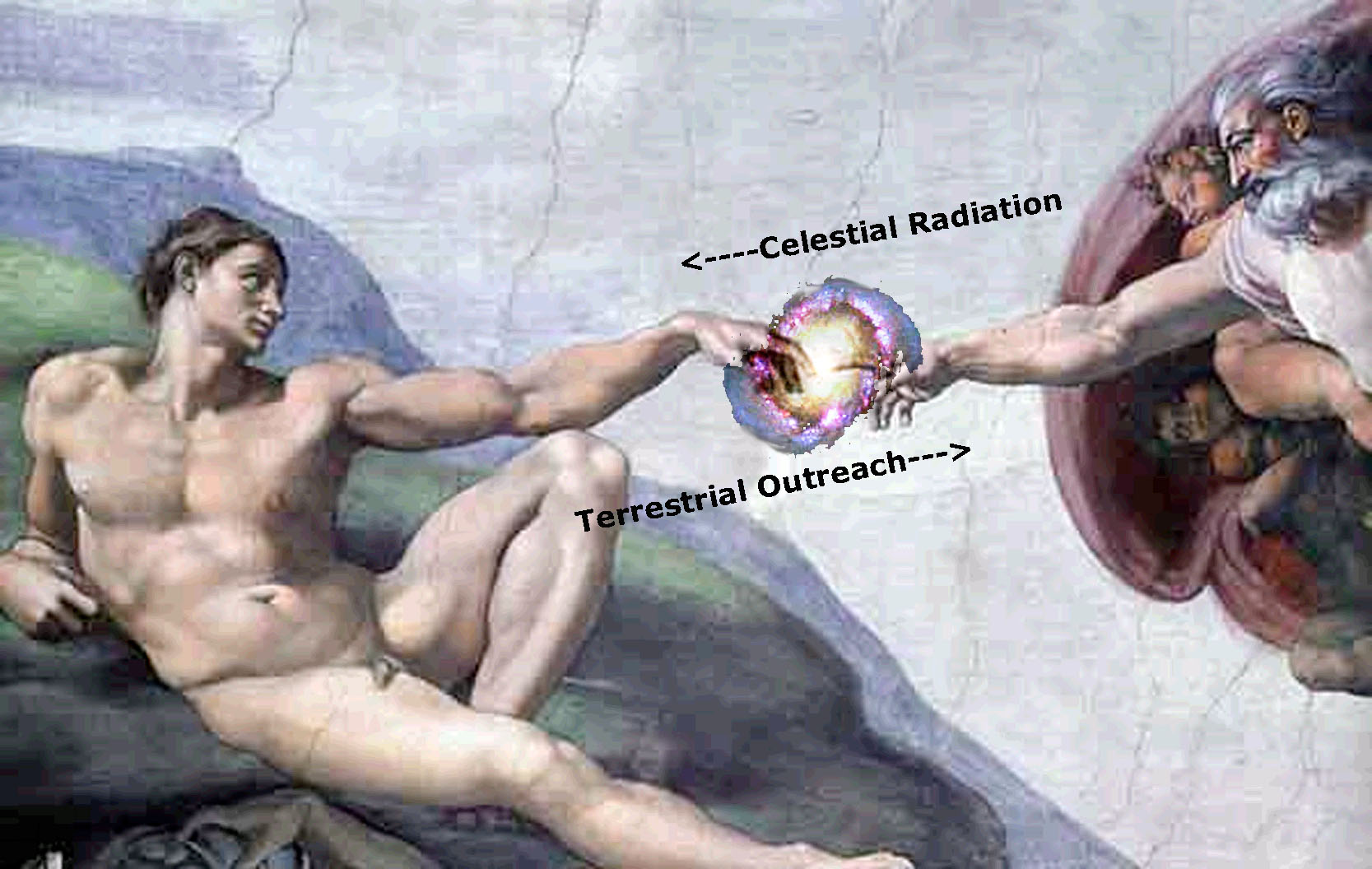 See Also
---
A New Concept of the Universe
A New Creed
I Am
false gods
God
Know Who You Are
Life Force
New Age
New Era of Consciousness
New Man
A special three volume set telling it like it is
"There is but one thing in this universe - LIGHT - the still Light of all Knowing. The One Light which is God, God alone lives. His thinking and imagining is Knowing; the Knowing universe is all that is; Knowing Mind is still. There is no activity whatsoever in the universe of either spirit or matter." [Russell, [[The Secret of Light, page 44]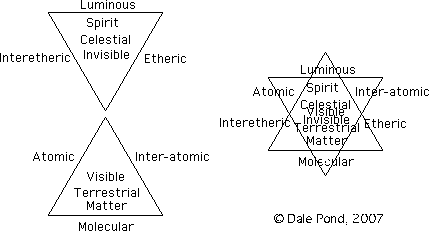 Russell
"The heavens and the earths of My curved universe are father-mother of My universe, each of each and each to the other one. Neither one can be save the other also be.
"Nor can one leave the other, saying, 'Sit thou here while I journey to the far reaches.'
"Nor can there be aught upon the earth without the fathering skies, nor in the skies without the motherhood of earth; neither man, nor bird, nor reptile, nor fish, nor beast of wild jungle; neither tree, nor flower, nor shrilly singing insect; neither tempest, wild tornado, nor gentle breeze of calm ocean; nor cloud, nor mist, nor dew drop for flower petal; not one of these things can be born of earth alone unfathered by the heavens, nor can heaven alone born them without the motherhood of earth.
.."Again I say: I, the Light, am One. But my thinking is two, for thought is two in every creating thing, two halves of One which never can be one. Always must they be two to go opposed ways from Me and back again to Me for reborning from the other one after finding rest in Me." - From THE DIVINE ILIAD; Russell, The Secret of Light, page 96-97]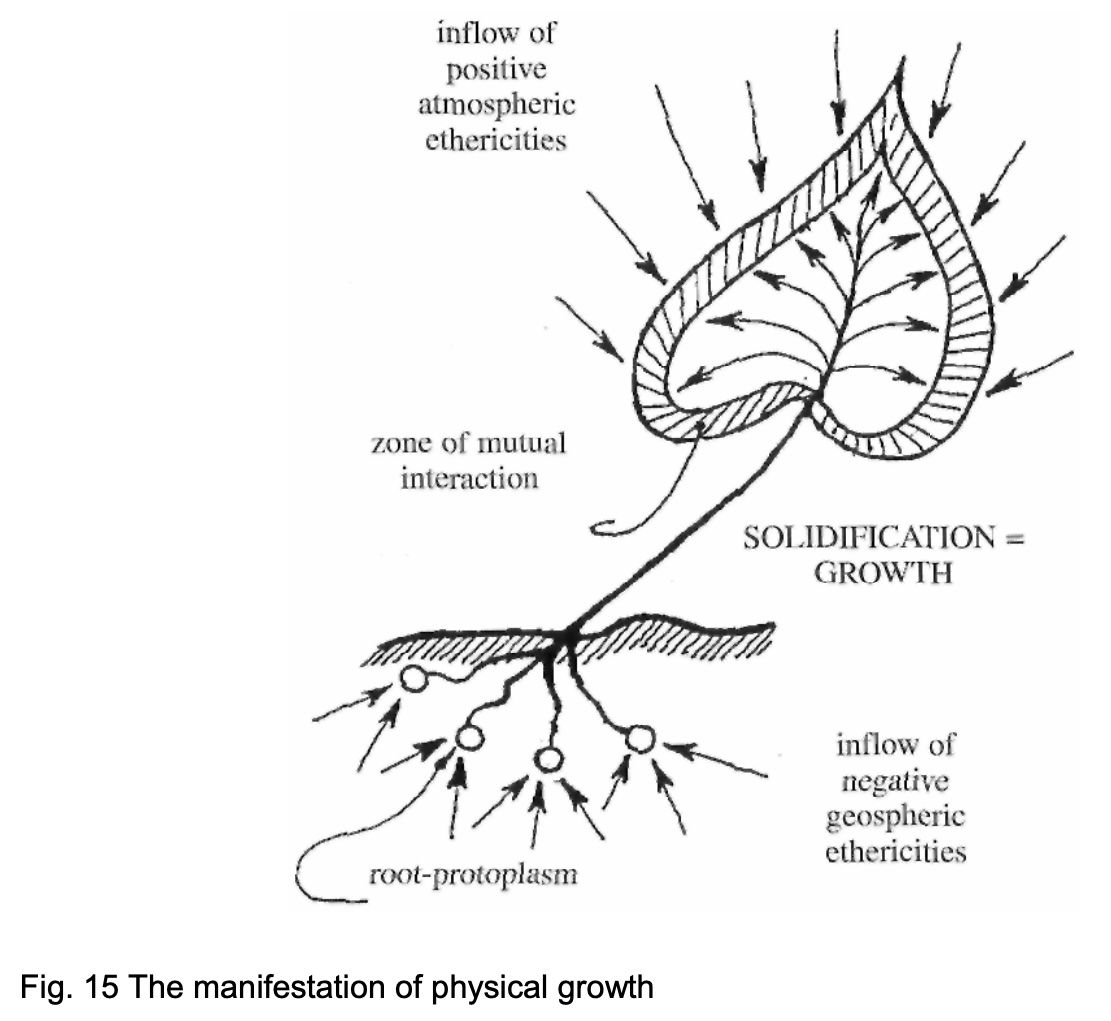 Schauberger - Figure 15

See Also
---
11.07 - Idea plus Will plus Spirit - Manifestation
369
Attraction
being
Celestial and Terrestrial Domains
Celestial and Terrestrial Forces in Iris Blossom
celestial attraction
celestial attractive
celestial current
celestial flow
Celestial Intermediate
Celestial Kingdom
celestial luminous
celestial mind flow
celestial mind force
celestial outreach
celestial propulsive
Celestial Radiation and Terrestrial Outreach
Celestial Radiation
celestial reflection
celestial space
celestial sympathetic outreach
Celestial Sympathetic Radiation
celestial sympathetic reflection
celestial sympathetic streams
celestial sympathy
celestial thirds
Celestial
Conviction
Evolutionary manifestation
Exciter
father
Figure 11.04 - Celestial and Terrestrial Forces Come Together to Manifest as All That Is
Figure 2.16 - Alchemical Graphics showing Celestial and Terrestrial Realms
Figure 3.16 - Idea Preceeds Manifestation in Material Form using Cubes and Cones
Figure 3.25 - Celestial Seeks and Condenses at Center
Idea
Infinite Exciter
Law of Attraction
manifest them in your body
manifestation
mate-pairs
material manifestation
materialization
materialize
Mental Manifestation
Mind In Matter
Mind Over Matter
mother
negative
neutral terrestrial centre
polar terrestrial force
polar
positive
Sai Baba
sex
sympathetic celestial streams
sympathetic celestial
sympathetic terrestrial flow
sympathetic terrestrial streams
Syntropy
Telekinesis
terrestrial attractive
terrestrial center
terrestrial centers of attraction
terrestrial centres
terrestrial chord-masses
terrestrial concordant
terrestrial current
terrestrial envelope
terrestrial flow
terrestrial flows
terrestrial focalized centers
terrestrial gamma-ray flashes
terrestrial interference
terrestrial magnetic envelope
terrestrial magnetic sympathetic flow
terrestrial magnetism
terrestrial matter
terrestrial negative attractive center
Terrestrial Outreach
terrestrial propulsive
terrestrial
Terrestrial
Thought
triple combination of the magnetic terrestrial envelope
triune sympathetic celestial stream
velocity of the positive and negative interchange of celestial sympathy
"The mighty forces latent in corpuscular matter are held in oscillating vortex action by this latent power exchanging sympathetically with the celestial radiating stream - the inflow attracted by receptiveness and the outflow impelled by expressiveness - giving light, heat, magnetism, electricity, each in its different order, by positive radiation." [Keely, [[Snell Manuscript]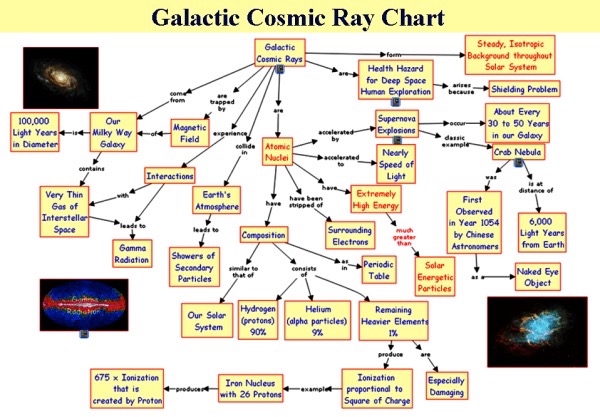 Cosmic Rays = Celestial Radiation?
"Luminiferous ether," Keely writes, "or celestial mind force, a compound interetheric element, is the substance of which everything visible is composed. It is the great sympathetic protoplastic element; life itself. Consequently, our physical organisms are composed of this element. This focalizing, or controlling media, of the physical, has its seat in the cerebral convolutions; from which sympathetic radiation emanates. This sympathetic outreach is mind flow proper, or will force; sympathetic polarization to produce action; sympathetic depolarization to neutralize it. Polar and depolar differentiation, resulting in motion. The true protoplastic element sympathetically permeates all forms and conditions of matter; having, for its attendants, gravity, electricity, and magnetism; the triple conditions born in itself. In fact, it is the soul of matter; the element from which all forms of motion receive their introductory impulse." [Keely and His Discoveries]
"Celestial mind force as associated with terrestrial brain matter..." [Keely and His Discoveries page 303]
Figure 2.16 - Alchemical Graphics showing Heaven/Celestial and Earthy/Terrestrial Realms intermingling to Create Life.
"Thermal radiation (and its negative, cold), the field of Prof. Dewar's researches, in Keely's system comes below the first atomic; while celestial sympathetic radiation comes as the fountain head; the compound interetheric, from which all aggregated matter springs, the governing force of all aggregations. If there were no sympathetic radiation from the great celestial center, space would be void of suspended, or floating, earthly and gaseous matter; consequently, planetary worlds would never have had their birth and growth.
"The suggestion of Prof. Dewar, that an increase in low temperatures might lead to the liquefying of hydrogen, is an admission that hydrogen may be a compound; for no simple can ever be condensed into a visible form. Keely's experimental researches have proved, to his own satisfaction, that all known gases are compounds, inasmuch as, when the intensity which accompanies sympathetic vibration, in his process, is brought to bear upon any gas, it submits to dissociation." [Bloomfield-Moore; Keely and His Discoveries pg. 371]
See Also
---
4plusplus
04 - Molecular Radiation
10 - Chart Defining the Angles of Radiation
12.30 - Thermal Radiation and Thermal Vacuum or Cold
17.08 - Gravitation and Radiation Russell
17.08.01 - Gravitation and Radiation Keely
17.09 - Gravitation and Radiation Hatonn
6.1 - Reciprocal Radiations
absorbed radiation dose
Book 02 - Chapter 12 - Gravitation and Radiation
Book 02 - Chapter 13 - Expressions of Gravitation and Radiation - Universal Direction
Book 02 - Chapter 16 - Expressions of Gravitation and Radiation - The Wave
Breath of Life
Celestial and Terrestrial Domains
Celestial and Terrestrial Forces in Iris Blossom
celestial attraction
celestial attractive
celestial current
celestial flow
Celestial Intermediate
Celestial Kingdom
celestial luminous
celestial mind flow
celestial mind force
celestial outreach
celestial propulsive
Celestial Radiation and Terrestrial Outreach
Celestial Radiation
celestial reflection
celestial space
celestial sympathetic outreach
Celestial Sympathetic Radiation
celestial sympathetic reflection
celestial sympathetic streams
celestial sympathy
celestial thirds
Celestial
Cloud Chamber
electro-magnetic radiation
ELECTROMAGNETIC RADIATION - Snell
Electromagnetic Radiation
etheric radiation
Figure 11.04 - Celestial and Terrestrial Forces Come Together to Manifest as All That Is
Figure 14.02 - Thoth the Sun God giving Life Force implying this force comes from the Sun
Figure 15.03 - Opposing Forces of Gravity and Radiation
Figure 17.00 - Opposing Forces of Gravitation and Radiation
Figure 2.16 - Alchemical Graphics showing Celestial and Terrestrial Realms
Figure 3.25 - Celestial Seeks and Condenses at Center
Figure 6.2 - Opposing Repellant Dispersive Radiations Neutralizing at Interface Plane of Inertia
Figure 9.4 - Radiation and Absorption interactions with Neutral Center
Free Energy
God
Gravitation and Radiation - page 141
Gravitation and Radiation - page 142-143
Gravitation and Radiation - page 144-145
Gravitation and Radiation - page 146-147
Gravitation and Radiation - page 148-149
high-energy radiation
Hydrogen
interchange of sympathetic radiation
Ionizing Radiation
irradiation
LATENT FORCE IN INTERSTITIAL SPACES - ELECTROMAGNETIC RADIATION - MOLECULAR DISSOCIATION
Law of Assimilation
law of radiation of mass
Life Force
Life
Light
Love
luminous radiation
metallic radiation
Mind Force
Mind of God
Mind
negative radiation
neutral radiation
opposed electrical pressures of gravitation and radiation
outward direction of radiation
Oxygen
positive radiation
Power of God
Radiation
Solar System
Soul
sympathetic celestial streams
sympathetic celestial
Sympathetic Radiation
Syntropy
Trinity of Matter and Force
triune sympathetic celestial stream
velocity of the positive and negative interchange of celestial sympathy
Voiding
Water
World Need of New Fuel