Russell
"The blood is also flesh of the body, as other parts of it are, and it comes from the Mind-center of thought-rings which constitute the heart." [Atomic Suicide, page 211]
"One little example of such effects should be enough. Consider the red blood corpuscles as that example. The blood is the basic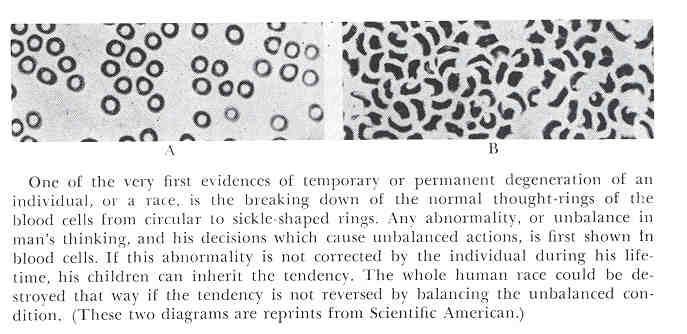 (scan courtesy of University of Science & Philosophy) (click to enlarge)
One of the very first evidences of temporary or permanet degeneration of an individual, or a race, is the breaking down of the normal
thought-rings
of the
blood
cells from circular to sickle-shaped rings. Any abnormality, or unbalance in man's
thinking
, and his decisions which cause unbalanced actions, is first shown in
blood
cells. If this abnormality is not corrected by the individual during his lifetime, his children can inherit the tendency. The whole human race could be destroyed that way if the tendency is not reversed by balancing the unbalanced condition. (These two diagrams are reprints from Scientific American.)

living flesh of the body. Strangely enough - but appropriately - its red blood cells are microscopic rings with holes centering them, such as pictured in example A, shown above. Emotional, or other disturbances, even inherited disturbances, which sufficiently upset the balance of the body metabolism, will break openings in these rings and make them appear to be sickle-formed as shown in example B.
The little white discs which constitute the white corpuscles
[p. 213]
of the blood appear to have frayed edges, as though they were moth eaten. Anemia and leukemia follow such abnormalities.
The blood is of first importance of all of the elements which compose the body. The nervous system could be entirely paralyzed and the body would still function, but the blood has deep instinctive awareness of its existence and the body, which does not have a happy, rhythmic blood condition, cannot possibly retain its normalcy. The blood immediately feels every mental and physical tension it is subjected to.
Next of importance is the heart flesh itself. There are muscular parts of the heart which perform physical functions only, as other flesh does, but a great part of the heart is composed of an independently living kind of "flowing" flesh which is not dependent upon the whole body, as all other parts are. The blood is the most potent of all of the Mind-message carriers of the body.
If you cut any part of your body out and preserve it from decay in a salt solution it can be thus preserved for a long time, even though it is as dead as the flesh in your deep freeze is dead. Not so, however, with that part of your heart which is made up of what the text-books call specific, or autonomous neuromuscular flesh. If you put that in a proper electric conducting medium, such as a salt solution, it will live a very long time - indefinitely perhaps - if the solution remains properly conductive. It does not die as other flesh dies so long as it is held in a conductive medium. The blood really has no intelligence but it is so close to the Mind as a carrier of power and creative messages that it seems to have intelligence of its own.
There are other parts of the heart which are, likewise, intended for the mental and physical state of the body which are utterly absent in all vegetable life, and less conspicuously developed in lower animal life. Such parts are the sinus node, the right and left bundle branch, and the intricate intertwining nerves, veins and muscles of the lower heart.
More important still is the fact that the blood is placed in columns, or shafts, which center all body-extensions in such posi-
[p. 214]
tions that those centers are the location of Magnetic stillness, and, as such, are of zero electric potential.
Next in our consideration is the brain flesh which surrounds the thought-rings of the central "switch-board" of the entire bodily nerve system. This, with the bone-marrow which assists message-carrying intercommunications between the Creator's Mind, and the imaged-forms He is creating, constitute quite a new science in itself, which is more needed by the medical profession than by our layman students. For this reason we cannot devote as much space to this vital subject as we would like to do.
Our present purpose is served by exemplifying the fact that every illness of the body is made in the image of one's thinking and the actions which follow mental, or sensed-decisions. We can retain our body normalcy, or we can easily damage it, by unbalancing our thinking and our normal way of life. If, therefore, one is ill, he should first look to the cause of it in himself. If people only realized that a happy body cannot exist without a happy state of Mind there would be no "mental cases" or insanity, much less headaches and other ailments.
There are two other shafts of zero potential besides the arterial and spinal ones which center the chest. These are the shafts which convey food to the stomach and the one which carries air to the lungs. The membranous flesh, which constitutes these tubes, is not like a plastic container. It has great conductive supersensitivity. It performs two separate and seemingly impossible opposite offices, for it both insulates that which should be insulated and conducts that which should be conducted.
One is very often mistaken in assuming that a badly upset stomach is due to food unwisely eaten when the fact is that unhappy rhythms have been the cause. The reaction has not alone been confined to the digestive functions. Its main cause may lie in emotional disturbance, business worry, worry of conscience, fear or many other states of unbalance. Even the food one eats should be "happy." It should be cooked with love and eaten joyfully, and there should be a joyful realization of love in one's deep breathing and exaltation during the process of taking food into one's body. The food you eat becomes blood
[p. 215]
and flesh of your body, and the manner in which you eat it, and your mental attitude while eating it, decides your blood count, the balance between acidity and alkalinity of your digestive machinery, and your entire metabolism.
These four great body shafts have much more "responsibility" than just performing physical, mechanical purposes. Please realize that fact. Your typewriter is a machine which will supposedly operate just as perfectly if you are angry, but even your typewriter could register your anger and be damaged by it. Whatever your mental condition is, your body condition records and reflects it as truly as a mirror equally images an angry you or a happy you.
Your Mind is YOU and your body is the record of your thoughts and actions. Your body is what your Mind electrically extends to it for recording.
Future generations should learn to think in such terms. They should discard the present concept of Mind and matter, and substitute Mind, thought, and action in place of it. Some day man will fully comprehend that matter is but the motion of thought.
The substance of this chapter is for the purpose of making you realize that your Mind reaches to every part of your body, not only your arms, legs, fingers and toes, but to every microscopic cell in your body.
You can instantly order your arms or fingers to obey a command from you, because large enough nerves connect your "switchboard" with them. There is not one cell in your body you cannot reach, however, with orders from your Mind. You may have to concentrate long and often to do it but you can do it. A simple experiment to prove that is to look concentratively upon one part of your body, such as the end of one finger. Demand of it that warm blood shall collect there, and it will, after a very few efforts. Many have done this. Another experiment for convincing you will be to order your ears to move - and they will in due time, just as a Paderewski orders his fingers to do fifty times as much as you can with yours." [Atomic Suicide, page 212-215]
"That zero point is the Soul-seed of the oak, or of a corpuscle in your blood." [Atomic Suicide, page 252-254]
---
Schauberger
"We must look into unknown dimensions, into Nature, into that incalculable and imponderable life, whose carrier and mediator, the blood of the Earth that accompanies us steadfastly from the cradle to the grave, is water." [Viktor Schauberger, 1932, Implosion Magazine, No. 103, p. 28]
"Whoever accelerates the media of earth, water and air centrifugally perishes unconditionally, for in so doing they reduce the Blood of the Earth (water) to a pathogenic state and make it the most dangerous enemy of all living and growing things." [Viktor Schauberger, Implosion Magazine, No. 96, p. 4.]
Through Patent No. 1.057.6767 granted by the French Patent Office, who accepted it in an almost unabridged form, the OEEC was made aware of my views, which in this way came to the attention one of the foremost water and air research institutes. Via a Viennese intermediary, my advice was sought as to whether this could explain the apparently unstoppable increase in the infection and decay of water, sap and blood, which is also responsible for every kind of water catastrophe. The actual impetus for these enquiries arose as a result of Professor Otto Warburg's study of cancerous tumours under the microscope. He determined that they were nourished principally by oxygen [8]. Plants too are supposed to obtain up to 80% of their nutrients from the positively overcharged atmosphere. [The Energy Evolution - Harnessing Free Energy from Nature, The Biological Vacuum - The Optimal Driving Force for Machines]
I reject this assertion, because oxygen is no nutrient, but the substance that fertilises the oppositely-charged (geospheric) fructigenic ethericities. These enter the plants via the protoplasm at the tips of the roots (see fig. 15). In more highly organised life-forms they enter the hermetically sealed blood- or sap-streams by way of the intestinal filtration systems; in other words, by way of diffusion. They then proceed through the diffusive orifices of the leaves, needles, gills and lungs and make possible the intermixtures upon whose character and capacity of accommodation the formation of pathogenic or animating entities depends, which at this time are in an atomic state. [The Energy Evolution - Harnessing Free Energy from Nature, The Biological Vacuum - The Optimal Driving Force for Machines]
Therefore, if water, sap or blood are over-illuminated, over-warmed or water is accelerated above its boundary velocity by pressure- and heat-intensifying techno-academic devices, such as steel ploughs, pressure turbines and pumps, pressure screws (propellers), Pelton wheels, etc., then the decomposive energies mentioned earlier come to life. These positively overcharged, invasive emanations are x-ray-like in nature and pierce every form of resistance. They penetrate right through to the negatively charged cell-nucleus and in the surrounding growth and life-forms cause the cell-nuclei to split. There [The Energy Evolution - Harnessing Free Energy from Nature, The Biological Vacuum - The Optimal Driving Force for Machines]
We are here concerned with bacteriophagous[9] threshold substances, which are first animated at a later stage of development. For this reason the view that this relates to viral entities released by water, sap and blood, is an error of the first order. It is the intermixture of the diffuse substances mentioned earlier that first makes fertilisation possible. It is the way in which impregnation takes place that determines whether the emergence of pathogens results or not. [The Energy Evolution - Harnessing Free Energy from Nature, The Biological Vacuum - The Optimal Driving Force for Machines]
Professor Sauerbruch was unaware that this vacuum comes into being through the planetary movement of the blood. Had he known, then medicine would have taken a completely different course.
I was further able to prove that because contemporary machines operate using centrifugence, resistances to motion with a reactive function[12] are
[11] Here the German word is 'Qualitatstoff', which literally means 'quality-matter, or substance'. With this Viktor Schauberger intended to describe a higher, 4th or 5th dimensional magnitude of pure quality as a thing in itself and as the driving force in the raising of quality of whatever kind as a 'quality-producer' or 'quality-generating substance' or energy. The English expression term 'qualigen' used here, is a contraction of the two words 'quality' and 'generator'. — Ed.
[12] Active and reactive energies, temperatures, etc.: 'Active' essentially relates to the more physical dimension, to what is outwardly physical and perceptible, physically palpable, gravitationally affected or oriented, and life-negating, i.e. to energies that tend to curb, limit and brake life, evolution and development. 'Reactive' on the other hand relates to more metaphysical dimensions, to what is inwardly physically intangible, levitationally affected or oriented, and life-affirming, i.e. to energies that tend to foster, re-animate and accelerate life, evolution and higher development. - Ed. [The Energy Evolution - Harnessing Free Energy from Nature, The Biological Vacuum - The Optimal Driving Force for Machines]
If such ennobled water is drunk, which accumulates normally insoluble trace-elements in a 'released' state and binds its oxygen content up to a maximum of 4%[13], then the dissolution of normally insoluble sediment accretions takes place, enabling sclerosis, encrustation of the blood, sap and lymph vessels to be healed. The organisms thus treated regain their metabolic functions as well as their reproductive abilities. In this way senile men almost fully recover their virility. After extended consumption of regenerated drinking water, even people who wear glasses can use weaker ones, because the capillaries of the eye, which supply it with high quality nutrients, will be purged of deposits. Rheumatic disorders are cured within a short space of time, for through this general detoxification the joints move freely and painlessly again and are provided with a film of essential oils. Kidney and gall stones also dissolve after only a few weeks of drinking such healing water and are passed out in gravel-like form with the urine. All those suffering from cancer can get relief from their tearing pains almost immediately, because the almost oxygen-free water binds the excess oxygen in the blood[14], thus eliminating dangerous hyperacidity. It is therefore not only possible to prevent cancer in this way, but even to cure this dreadful disease, if this all-healing water is drunk in good time. The healing of rheumy eyes with the aid of gold earrings also occurs in a similar way. Situated in the earlobes - the coolest location, they function bio-catalytically and make any form of water secretion impossible. If one burns one's finger, then almost intuitively one grasps the earlobe, where the relatively strongest falling temperature gradient prevails, and an almost instantaneous relief from the burning sensation is felt. Catalysts in the form of the emanations from gold and silver not only function oligodynamically (they kill pathogenic bacteria), but also build up apathogenic bacteria, as happens in the vicinity of high springs. Having recognised this, a very open-minded doctor, the director of the old peoples' home at Lainz near Vienna, attempted to cure the sclerotic symptoms of seriously rheumatic W.W.II soldiers by administering the finest gold and silver dust. He only achieved a partial cure, however, because this can only be done with the infusion of precious metals in an organic state.
[13] This is slightly equivocal and can be interpreted in two ways: Either 4% of the 100% oxygen content is bound, or, up to 4% of the 100% oxygen content is bound, namely 96%. In view of what has been stated in "The Liquefaction of Coal by means of Cold Flows" on p. 95 of this book, it would appear that the latter interpretation is what is intended here. — Ed.
[14] The free oxygen radicals are bound. — Ed. [The Energy Evolution - Harnessing Free Energy from Nature, The Catalysts]
therefore false economic system. Further comment is now totally superfluous. In any case, it was an outsider, who rediscovered the secret of naturalesque mass-motion, and who thus perhaps rescued the whole of humanity from a ghastly end, namely to perish hopelessly from the putrefaction of water, sap and blood. [The Energy Evolution - Harnessing Free Energy from Nature, The Catalysts]
Just a slight positively surcharged motive or stimulative influence is enough to discharge the blood of the Earth, the extremely pressure-sensitive accumulator of the true life-forces in statu nascendi, which it accumulates in order to transform them into reactivated formative (levitative) or disintegrative (retrogressive) energies. [The Energy Evolution - Harnessing Free Energy from Nature, Cadaverine Poison in Ray-Form - Ptomaine Radiation]
Under natural conditions, this very water, like plant juices or higher-grade bloods, is raised by indirect means to the highest mountain peaks through its [The Energy Evolution - Harnessing Free Energy from Nature, Cadaverine Poison in Ray-Form - Ptomaine Radiation]
This form of water movement is therefore the one ur-generated by the blood of the Earth, the liquid that pressure-turbines decompose. This explains why water becomes increasingly scarce where pressure-turbines are operating. Not only do they trigger an x-ray-like emission of radiation (inner heat and light), which destroys the structure and quality of the most vital cell tissue, but in addition they rob the draining old-water of any ability to reproduce and further develop = to increase and ennoble itself, due to the decomposition of its [The Energy Evolution - Harnessing Free Energy from Nature, Cadaverine Poison in Ray-Form - Ptomaine Radiation]
Particularly serious mistakes were made through the spreading of blast-furnace slag (so-called artificial fertilisers), whose intensified combustion once again robs the soil of its essential energy concentrates, the congealed oily sweetness, which the de-energised and finely pulverised slag then drags to itself from the surrounding negatively potentiated groundwater. Artificial fertilisers therefore remove the blood of the Earth's formative substances, which it must supply to the plants indirectly for the purposes of further ennoblement. In this way too, those levitational factors were eliminated which triable the specifically heavy groundwater to maintain its precarious suspension on steep slopes. From this it can be seen how dangerous are the influences of fire and the lower-grade, expansively and explosively functioning temperatures that arise from fire-affected masses. [The Energy Evolution - Harnessing Free Energy from Nature, Cadaverine Poison in Ray-Form - Ptomaine Radiation]
However, if a physical, thermal or chemical starting impulse is first active, which influences the molecular motion in such a way that the oxygen becomes free, unipolar and aggressive due to the resurgence of positive, group B temperatures, then having been forced into the centre of this combat, the principal formative matter will become passive and will be bound, consumed and digested. The product of this event is the developmentally harmful cavitation current - a variety of the so-called electric current - which as an exceptionally analysing current not only pits and corrodes steel turbine blades, but also decomposes and dissociates the blood of the Earth - water. [The Energy Evolution - Harnessing Free Energy from Nature, The Life-Current in Air and Water]
Blood formation or blood decomposition - synthesising or analysing current - vitalisation or devitalisation - health in mind and body or disease, death and economic disaster, all these are decreed by what in the opening paragraph science calls molecular motion whilst having no knowledge of the differences in the forms of motion, which not only determine existence or non-existence, but also all economic progress or decline. [The Energy Evolution - Harnessing Free Energy from Nature, The Life-Current in Air and Water]
A strange twist of fate led me to the burial ground of an ancient culture on the 20th of May 1946. There people smirked, because they believed they were dealing with a madman, who described water as the blood of the Earth! [The Energy Evolution - Harnessing Free Energy from Nature, The Life-Current in Air and Water]
It is known that a good, light and palatable old wine comes into being through fermentation in a cellar. This is none other than a form of digestive process in which cycloid-space-curve-motion naturally plays a part - a motion the naturalistic doctor calls the 'life-creating spiral' and the biotechnician 'double spiral wave motion' (viz. the cycloid movement of the blood, to which we owe the build-up of mental essences, the creation of thoughts, the formation of our bones and flesh, reproductive embryos and of course, the possibility of overcoming our own physical weight). [The Energy Evolution - Harnessing Free Energy from Nature, New Forms of Motion and Energy]
We are therefore not only faced with the birth of water, but also with the determination of the gender of the birth product. From the sum total of these experiments arose a discovery, whose implications first become evident, when we consider that it opens the way to produce water - the blood of the Earth - in any desired quantity and quality naturalesquely and in addition to pass on the desired properties to the evolutionally-older new-born entity. Water pipelines are therefore no longer necessary in order make what is nothing less than the most noble water available in the middle of treeless deserts or salt-water wastes. This not only ingeniously solves the problem of living space for a constantly increasing population, but also that of food shortages. [The Energy Evolution - Harnessing Free Energy from Nature, The Ennoblement of Water]
---
Cayce
BLOOD SUPPLY
First, then, let us consider information about the BLOOD SUPPLY:
"There is no condition existent in a body, the reflection of which may not be traced in the blood supply. The blood stream not only carries the rebuilding forces to the body; it takes the used forces and eliminates them through their proper channels in the various portions of the system. We find red blood, white blood and lymph all carried in the veins. These are separated only by those very small portions that act as builders, strainers, destroyers or resuscitating portions of the system. For always in the blood stream there is seen the reflection or evidence of that condition being enacted in the physical body.
"THE DAY MAY YET ARRIVE WHEN ONE MAY TAKE A DROP OF BLOOD AND DIAGNOSE THE CONDITION OF ANY PHYSICAL BODY." No. 283-2
Twenty years later, Dr. Laurence H. Snyder of Ohio University, speaking at the New York Academy of Medicine, told a large audience: "It would be possible for me to take a drop of blood from each of you in the audience tonight; then five years later I could return here, gather you together and take another drop of blood. Without knowing the source of the bloods, I could then assign the correct sample to the proper person."
This was a striking statement at that medical meeting; it gave some idea of the enormous gain in knowledge about human blood. It was also brought out that more facts had been gathered in the 48 months prior to that meeting than were collected in the previous 48 years. Yet Edgar Cayce, twenty years before, had predicted such a development.
Another reading (No. 108-1) stated: "The blood is the CRITERION by which conditions existent in the system may be found."
In regard to blood cells, this statement was made (1548-2): "Opposite effects exist in a system, of course, with regard to tuberculosis and cancer. For one is a separation, the other is a segregation."
A man who asked if he should take injections for prevention of colds was told: "Rather let there be created through regular activities and those things we have given for creating virile red blood, that which will combat and prevent colds, than attain such a state in another way or manner." No. 279-14
A woman recuperating from an operation was told that a balance must be kept in the metabolism and catabolism, and explained the balance thus: No. 564-1
"But what do these terms mean? That there is proper rhythmic activity of the organs as they function for creating the elements necessary for the body's resuscitation. That is: there are certain forces in the divisions of the blood supply - red blood cells, white blood cells, lymph or leucocyte - that must increase if there is to be recuperation or building up. Metabolism, therefore, means keeping that BALANCE necessary for supplying same. Catabolism means keeping the internal and external activity of the circulation, in and to the organs, in harmony and rhythmical activity, in relationships one to another. If that is done with this body ... then the improvements will be of a permanent nature."
A rather humorous remark was made to one man who asked if it would be all right for him to make blood donations: "These would not be very good for the one you gave them to, unless there are some corrections made - although this would not affect you much." [Cayce (3629-1)]
"What one thinks continually, they become; what one cherishes in their heart and mind they make a part of the pulsation of their heart, through their own blood cells, and build in their own physical, that which its spirit and soul must feed upon, and that with which it will be possessed, when it passes into the realm for which the other experiences of what it has gained here in the physical plane, must be used." [Cayce (3744-5)]
"Each cell of the blood stream, each corpuscle, is a whole universe in itself." [Cayce 341-31]
---
See Also
---
cell
Heart
Life
Life Force
Lymphatic System
Neutral Center
Rhythmic Balanced Interchange
Universal Heart Beat