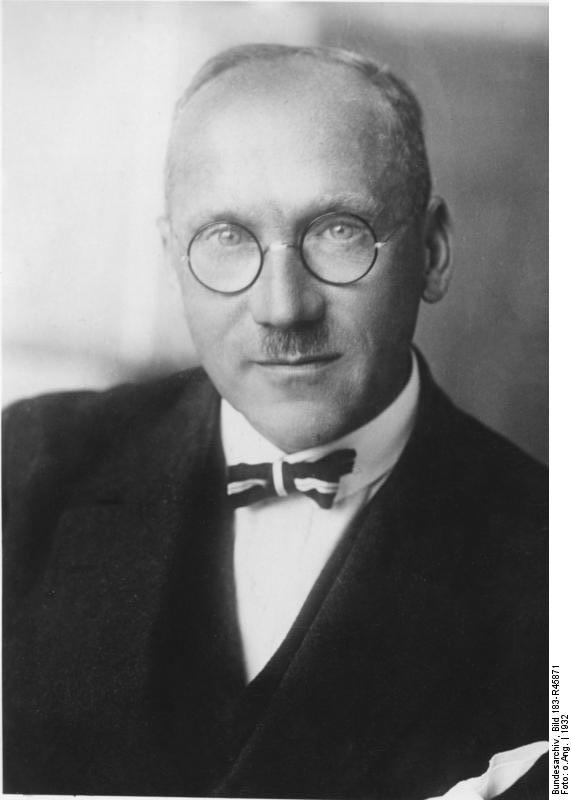 Ernst Ferdinand Sauerbruch

Sauerbruch was born in Barmen (now a district of Wuppertal), Germany. He studied medicine at the Philipps University of Marburg, the University of Greifswald, the Friedrich Schiller University of Jena, and the University of Leipzig, from the last of which he graduated in 1902. He went to Breslau in 1903, where he developed the Sauerbruch chamber, a pressure chamber for operating on the open thorax, which he demonstrated in 1904. This invention was a breakthrough in thorax medicine and allowed heart and lung operations to take place at greatly reduced risk. As a battlefield surgeon during World War I, he developed several new types of limb prostheses, which for the first time enabled simple movements to be executed with the remaining muscle of the patient. https://en.wikipedia.org/wiki/Ferdinand_Sauerbruch
My allegations in this regard were construed an as affront to the honour and prestige of the Establishment and I was requested to provide written proof of these provocative assertions to the university professors I mentioned by name. This I also did and without exception they all had to capitulate. I could prove to them that as a result of techno-academic systems of motion - a predominantly centrifugal form of mass-movement - an atomic (electrolytic) excess pressure builds up in the structure of the basic elements, thereby producing an increase in temperature; in other words, a feverish condition. In contrast, an atomic (magnetic) low or negative pressure is generated through a form of planetary mass-motion in which centripetence predominates. This gives rise to a concentrative, negative pressure, which functions as a biological vacuum. It was discovered as early as 1908 by Professor Ernst Ferdinand Sauerbruch, who recognised that neither breathing nor expansion of the lungs would be possible if the biological vacuum were not to exist. He was declared a fool all the same and dismissed without notice when he told his superior, Professor Mikolitsch, the following:
"Were there no vacuum between the surface of the lungs and the pleura, no intake of breath, nor resistanceless expansion of the lungs would be possible. Everything would suffocate were this biological vacuity to be filled with normal, atmospheric pressure through any form of perforation." [The Energy Evolution - Harnessing Free Energy from Nature, The Biological Vacuum - The Optimal Driving Force for Machines]
Schauberger
Professor Sauerbruch was unaware that this vacuum comes into being through the planetary movement of the blood. Had he known, then medicine would have taken a completely different course.
I was further able to prove that because contemporary machines operate using centrifugence, resistances to motion with a reactive function[12] are
11 Here the German word is 'Qualitatstoff', which literally means 'quality-matter, or substance'. With this Viktor Schauberger intended to describe a higher, 4th or 5th dimensional magnitude of pure quality as a thing in itself and as the driving force in the raising of quality of whatever kind as a 'quality-producer' or 'quality-generating substance' or energy. The English expression term 'qualigen' used here, is a contraction of the two words 'quality' and 'generator'. — Ed.
12 Active and reactive energies, temperatures, etc.: 'Active' essentially relates to the more physical dimension, to what is outwardly physical and perceptible, physically palpable, gravitationally affected or oriented, and life-negating, i.e. to energies that tend to curb, limit and brake life, evolution and development. 'Reactive' on the other hand relates to more metaphysical dimensions, to what is inwardly physically intangible, levitationally affected or oriented, and life-affirming, i.e. to energies that tend to foster, re-animate and accelerate life, evolution and higher development. - Ed. [The Energy Evolution - Harnessing Free Energy from Nature, The Biological Vacuum - The Optimal Driving Force for Machines]