"Matter is capable of infinite subdivision."
Keely
, 1893
There are different kinds or degrees of matter and vacuum (dispersed matter). Each contains or is a media of different tenuity or density and has unique characteristics or parameters. See Subdivision, Dispersion, Scalar, Etheric Elements
Showing seven planes, dimensions, subdivisions, levels, realms, orders, gamuts or ranges of matter, force and energy. As also levels of tenuity or solidity.
Figure 1.3 illustrates how the universe is constructed of imbedded or nested (holographic or Fractal) layers of physical structure and dynamics. Molecules are made of atoms, atoms are made of leptons, etc. These are not dimensions existing independent of each other but are intermingled and interpenetrating each other. The lower frequency dimensions or realms of existence are predicated on or effectuated by the higher frequency realms, dimensions, planes or levels. The finer levels are the building blocks of the lower realms. In other words there can be no molecules without atoms; no atoms without electrons; no electrons without photons; no photons without quarks, etc. The structure of these nested realms are held (Keely) to be identical on all levels much like the repetitive imbeddedness of fractal math and images. The same structure applies to syntropic energy formation. See Nested Morphology
This chart also shows the reciprocal (rhythmic balanced interchange) nature of the dynamical universe and correlates ancient earth, water, air and fire with modern chemistry and physics.
See Also
---
12.00 - Reciprocating Proportionality
13.04 - Atomic Subdivision
13.05 - Seven Levels Subdivisions Planes or Realms of Mind Matter and Energy
13.15 - Principle of Proportion
14.33 - Mind Force - Light - Etheric Subdivision
18.14 - Mind is the Ultimate Scalar Quantity
7.3 - Law of Love - Reciprocal Interchange of State on Multiple Subdivisions
AQUEOUS DISINTEGRATION - Snell
Atom
ATOMIC THIRD SUBDIVISION
Breakthrough
Cause
COMPOUND INTERETHERIC NEUTRAL CENTER SEVENTH SUBDIVISION
Dimension
Effect
Eighteen Attributes or Dimensions
Ether
Etheric Elements
ETHERIC FIFTH SUBDIVISION
fifth subdivision
Figure 1.3 - Subdivisions of Matter and Energy
Figure 1.3.1 - Subdivisions of Matter and Energy according to Keely
Figure 13.06 - Atomic Subdivision
Figure 2.2 - Nested subdivisions of Matter from Molecular to Compound Interetheric
Figure 7.7 - Keelys Morphology - Infinite Subdivision of Matter
first subdivision
FORM OF THE ATOM
fourth subdivision
Heaviside Component
INTERATOMIC FOURTH SUBDIVISION
interchangeable subdivision
INTERETHERIC SIXTH SUBDIVISION
INTERMOLECULAR SECOND SUBDIVISION
Locked Potentials and Subdivisions
Matter
Mind Force the hidden Scalar Force
First Subdivision
molecular subdivision
molecule
Non-observable
Observable
Order
Plasma
progressive subdivision
quantum
Scalar
Scale of Locked Potentials
second subdivision
seventh subdivision
sixth subdivision
subatomic
Subdivision
Table of Subdivisions of Matter and Energy
THE SEVEN FORMS OF SUBSTANCE
The Seven Subdivisions of Matter and Energy
third subdivision
triple subdivision
Vacuum
vibratory subdivision
States of Matter, Wikipedia
Conventional science and engineering assumes erroneously that all vibrations and oscillations from 1 to beyond light are all the same. Of course this is not correct as sound does not create the same effects as say Ultraviolet ray vibrations. Keely was able to leave us a classification hidden in his Forty Laws. This classification shows three main subdivisions of oscillation from
1) 1 to 20 octaves where sound predominates in its three forms and
2) from the 21 to 41 octave sound and thermal effects occur wherein for instance would be found ultrasound, radio and microwave phenomena and
3) from the 42 to the 62 octaves which include frequency ranges of low infrared to visible light and chemical ray vibrations to low Cosmic rays. Of course, there remain the octaves above 63.
Table 13.02 - Vibratory and Oscillatory Triple Force Functions
See Also
---
8.20 - Law of Sympathetic Oscillation
Law of Sympathetic Oscillation
Affinity
Angular Momentum coupling
Center of Oscillation
co-oscillation
co-vibration
coupling
Differential Oscillation
double vibration
Figure 8.11 - Four Fundamental Phases of a Wave
Figure 8.9 - Four Fundamental Motions of a Pendulum
function
inductive coupling
Law of Oscillating Atomic Substances
Law of Sympathetic Association
Law of Sympathetic Vibration
Law of Variation of Atomic Oscillation by Sono-thermism
Law of Variation of Pitch of Atomic Oscillation by Pressure
laws of oscillatory and vibratory motions
MOLECULAR OSCILLATING FREQUENCY
molecular oscillation
oscillate
oscillating proximately
oscillating range of motion
Oscillation
oscillatory motion
Pendulum Oscillation
Proximate Oscillation
Quantum Coupling
Quantum Entanglement
Ramsay - PLATE IV - Oscillation and Vibration
Ramsay - PLATE V - Proximate and Differential Oscillations
Ramsay - The Marshalling of the Host of the Lower Heavens21
Ramsay - The New Way of Reckoning a Pendulum Oscillation
Ramsay - The New Way of Reckoning a Vibration
Rotational-vibrational coupling
Rovibrational coupling
rovibronic coupling
single vibration
spin-orbit coupling
subordinate function
Sympathetic Association
Sympathetic Oscillation
Sympathetic Vibration
Sympathy
Table 13.02 - Vibratory and Oscillatory Triple Force Functions
TREXNONAR MEASUREMENT OF MOLECULAR OSCILLATING FREQUENCIES
Vibration
Vibronic coupling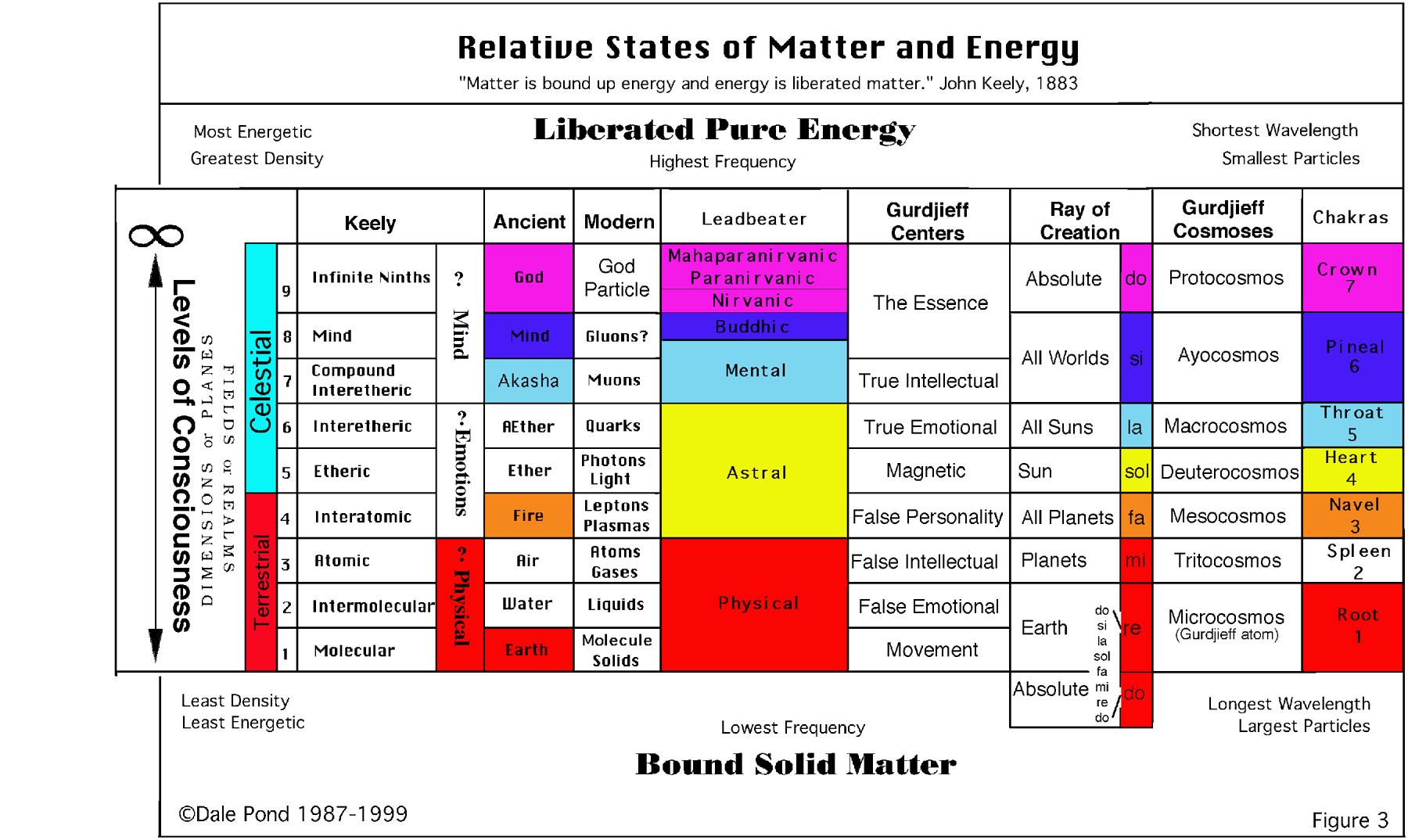 See Also
---
Chart of Matter and Energy
Charts
Figure 1.3 - Subdivisions of Matter and Energy
Figure 1.3.1 - Subdivisions of Matter and Energy according to Keely
Figure 13.07 - Mind Matter and Energy Chart
State
Subdivision
Tables
7.0.5 - What is Matter and Energy
13.05 - Seven Levels Subdivisions Planes or Realms of Mind Matter and Energy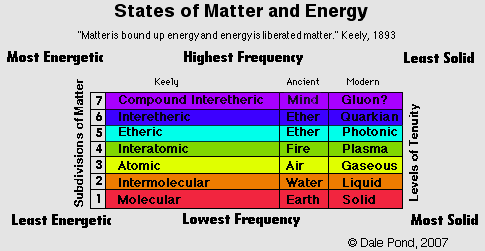 Figure 1.3 - Subdivisions of Matter and Energy
500 Levels of Matter & Energy now Recognized
"Forget solid, liquid, and gas: there are in fact more than 500 phases of matter. In a major paper in today's issue of Science, Perimeter Faculty member Xiao-Gang Wen reveals a modern reclassification of all of them. Using modern mathematics, Wen and collaborators reveal a new system which can, at last, successfully classify symmetry-protected phases of matter. Their new classification system will provide insight about these quantum phases of matter, which may in turn increase our ability to design states of matter for use in superconductors or quantum computers. This paper, titled, "Symmetry-Protected Topological Orders in Interacting Bosonic Systems," is a revealing look at the intricate and fascinating world of quantum entanglement, and an important step toward a modern reclassification of all phases of matter."
Read more at: http://phys.org/news/2012-12-phases-phase.html#jCp and States of Matter, Wikipedia
See Also
---
13.04 - Atomic Subdivision
13.05 - Seven Levels Subdivisions Planes or Realms of Mind Matter and Energy
14.33 - Mind Force - Light - Etheric Subdivision
7.3 - Law of Love - Reciprocal Interchange of State on Multiple Subdivisions
AQUEOUS DISINTEGRATION - Snell
Atom
ATOMIC THIRD SUBDIVISION
COMPOUND INTERETHERIC NEUTRAL CENTER SEVENTH SUBDIVISION
Dimension
Eighteen Attributes or Dimensions
Ether
Etheric Elements
ETHERIC FIFTH SUBDIVISION
fifth subdivision
Figure 1.3 - Subdivisions of Matter and Energy
Figure 1.3.1 - Subdivisions of Matter and Energy according to Keely
Figure 13.06 - Atomic Subdivision
Figure 2.2 - Nested subdivisions of Matter from Molecular to Compound Interetheric
Figure 7.7 - Keelys Morphology - Infinite Subdivision of Matter
first subdivision
FORM OF THE ATOM
fourth subdivision
INTERATOMIC FOURTH SUBDIVISION
interchangeable subdivision
INTERETHERIC SIXTH SUBDIVISION
INTERMOLECULAR SECOND SUBDIVISION
Locked Potentials and Subdivisions
Matter
molecular subdivision
molecule
Numerous States of Matter
Order
Plasma
progressive subdivision
Scale of Locked Potentials
second subdivision
seventh subdivision
sixth subdivision
subatomic
Subdivision
Table of Subdivisions of Matter and Energy
THE SEVEN FORMS OF SUBSTANCE
The Seven Subdivisions of Matter and Energy
third subdivision
triple subdivision
vibratory subdivision
States of Matter, Wikipedia