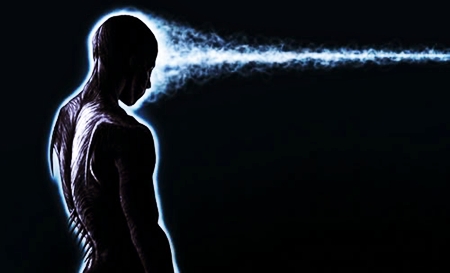 Keely
"The immortal EGO is an entity of which man can become thoroughly conscious while here on earth, but to arrive at this consciousness necessitates the entire abandonment of all the petty considerations involved in the transient and subordinate EGO, which is the only self of which the unenlightened man is conscious. Let him who desires to reach this inner consciousness enter his inner sanctuary, wherever that sanctuary may be; it matters not whether it be his own chamber, the open field, the mountain top, the seashore, the stately cathedral, or the humble village chapel. Let him realize fully the transient character of his own personality and contrast therewith his eager longing to know the immortal. Let him concentrate his whole consciousness upon his personality, fully arousing all his personal conditions as a distinct individual; then with all the aspiration of which this personality is capable, let him beseech of the immortal EGO - which is eternal and does not incarnate, but overshadows all incarnations, waiting until one is formed capable of illumination, to whom it may reveal itself - to consider him worthy of illumination, and according to his preparedness to receive illumination will it then be granted. He who asks this, knows not what he asks; for were the prayer answered, life henceforth for such an one would be a weary round, as Hamlet says: "to-morrow and to-morrow and to-morrow brings in this weary round of life"; for, having seen the glory of this immortal EGO, all else seems so base, so commonplace and mean, so inglorious, that oftentimes the personality has utterly collapsed when thrown back from the radiant vision of this glorious immortal entity possessed by all alike, though scarcely dreamed of by any save the very few who, discontented with the ignorance and emptiness of terrene existence, aspire to know the great reality of the supernal. As the incarnations of every entity, passing through certain orders of experience through numerous lives, inevitably culminate in this moment of conscious realization of the immortal entity; the Buddha says: "All shall reach the sunlit snows." [Amplitude of Force]
---
A Course in Miracles
"Prayer is the medium of miracles. It is a means of communication of the created with the Creator. Through Prayer love is received and through miracles love is expressed. But the only meaningful prayer is for forgiveness." [A Course in Miracles]
---
Cayce
…the prayers of ten may save a city; the prayers of twenty-five may save a nation - as the prayers and activities of ONE may! but in union there is strength.
Then if that purpose would be kept, then it must ever be kept in mind that we ARE our brother's keeper! [Cayce1598-2]
"Prayer is just as scientific as the knife, in its individual field. Mechano-therapy or mechanical treatments are as effective in their individual field, and are of the same source as prayer - if applied in the same way or manner, or with the same sincerity." Cayce (1546-1)
"For prayer is supplication for direction, for understanding. Meditation is listening to the Divine within." Cayce (1861-19)
"For all prayer is answered. Don't tell God how to answer it." Cayce (4028-1)
"...prayer is the making of one's conscious self more in attune with the spiritual forces that may manifest in a material world... Prayer is the concerted effort of the physical consciousness to become attuned to the consciousness of the Creator, either collectively or individually." Cayce (122-13)
"Prayer is not an old woman's idle amusement. Properly understood and applied, it is the most potent instrument of action." - Mahatma Mahatama Gandhi
"He that would know the way must be oft in prayer, joyous prayer..." Cayce (281-12)
Can ye comprehend how thy prayer may save the sick, may bring harmony? Cayce (281-27)
"Lord, guide, guard and direct. Let the meditations of my heart be in accord with that Thou would have me be, that I may show forth in my dealings with my fellow man the fact that THOU hast walked and talked with me." [Cayce 826-2]
(Q) Will you give a prayer for meditation for this body?
(A) MAY THERE BE DONE IN ME AND THROUGH ME THAT WHICH THE LORD SEEST I HAVE NEED OF, THAT I IN HIS WAY MAY BE OF THE GREATER SERVICE AND THE GREATER CHANNEL OF BLESSINGS TO OTHERS. USE ME, IN THE NAME OF THE FATHER, OF THE SON, IN THE WAY THOU SEEST BEST. ~ Cayce (498-1)
"Why worry, when ye may pray? Know that the power of thyself is very limited. The power of Creative Force is unlimited." Cayce (2981-1)
"For resentments of any nature bring their fruit in the physical. Not that there should be wholly that of passive resistance, but: THY WILL, O LORD, BE DONE IN AND THROUGH ME AS THOU SEEST I HAVE NEED OF FOR MY SOUL DEVELOPMENT, AND THAT I MAY THROUGH THIS DEVELOPMENT BE THE GREATER CHANNEL OF BLESSING TO MY FELLOW MAN." Cayce (288-37)
"GREAT CREATIVE FORCES, I AM THY SERVANT; AND WOULD GIVE MYSELF IN BODY, IN MIND, IN SPIRIT, TO THE SERVICE OF MY FELLOW MAN THAT THE CREATIVE FORCES MAY BE THE BETTER UNDERSTOOD, AND MAN'S RELATIONSHIP TO SAME KNOWN IN THE HEART OF MEN." [Cayce 1436-1]
"NOT AS I WOULD BUT AS THOU SEEST FIT, O LORD. KEEP THOU THE PURPOSE OF EACH ABOUT THE ENTITY, AND MAY WE IN OUR PURPOSE, OUR DESIRE, NOT LOSE SIGHT OF THE MENTAL AND SPIRITUAL ASPECTS THAT MAY BE MANIFESTED THROUGH THE PURPOSES OF THE CREATIVE FORCES - OR GOD - WITH EACH INDIVIDUAL." Cayce (2153-11)
"Then set definite periods for prayer; set definite periods for meditation. Know the difference between each. Prayer, in short, is appealing to the divine within self, the divine from without self, and meditation is keeping still in body, in mind, in heart, listening, listening to the voice of thy Maker." [Cayce 5368-1]
"Don't let a day go by without meditation and prayer for some definite purpose, and not for yourself, but that you may be the channel of help to someone else. In helping others is the greater way to help yourself." [Cayce 3624-1]
---
Russell
Quotes on prayer from Home Study Course, unit 2, Lessons 5, 6, 7 and 8:
"Prayer is the desire basis of meditation and out of which meditation grew.
Prayer is the mightest of man's powers, for through prayer - if understood and rightly used, and accompanied by action - man may have anything he desires, attain the loftiest heights, or extend his powers to others for their exaltation. Rightly and knowingly used, prayer can transform one's own condition or that of the whole world. If prayer is not rightly and knowingly used, the time consumed is wasted, for it will be of no avail." Home Study Course, Lesson Five, page 75.
The concept of prayer, as he and Lao explain, is wrapped up in the giving/regiving cycle. (Law of One) This means that taking only or praying for a giving to you is null and void unless that received is regiven again. I find this giving/regiving idea difficult to grasp. It sounds very much like the Rosicrucian Law of Amra. Here is part of their explanation:
"You ask God for peace, happiness and prosperity to be given to you, but you take peace, happiness and prosperity away from another by malicious gossiping about your neighbor or treating your servant unjustly, thus taking happiness away from him or her, or by misrepresenting the product you are selling.
Until you balance your desire for peace by giving peace, or happiness by giving happiness, or prosperity by giving prosperity, your prayer will be voided by you, yourself. The only way you can have happiness given to you by the Light of Love, which God is, is for you to give love to others. You cannot take happiness or love. You can only give it. If you give love, it will as surely be given you as light shone into a mirror will reflect light back from the mirror." page 77
"Prayer is just meaningless words if not felt in the heart; just as music is no more than sound if it does not reach the Soul. Prayer to God is a realization that the Soul of man is ONE with the Universal Soul. It is not an appeal by man to God. It is a communion between the divine man to the divine God of man. As such, it is the mightiest of man's powers, but when prayer is but words, not coming from the Soul, it is no more effectual than the hundreds of prayers written and distributed throughout the streets in Asia or prayers written into a disc and whirled to repeat themselves by turning the prayer wheel swiftly." page 84
"Those who thus pray might just as well not pray, for prayer is a union of Soul of man to Soul of God, and words alone cannot make that union." page 84
"When you pray for God to show His love for you by giving your field good crops, you must yourself give your love to your fields to regive His giving. Your love given to them is God's love given to you for regiving. Your love and God's love are ONE. Its manifestation is TWO in giving and regiving by that TWO is the ONE HEARTBEAT of God's body, even as the swinging of the pendulum is the TWO of the ONE source of their manifestation." page 86
"He who can say in his heart, "I and my Father are one," and feel the ecstasy of that unity, is continually IN PRAYER, even as he is continually IN LIFE and continually breathing. His prayer is like unto his inward-outward breath which is forever with him, forever vitalizing him. Every life should be a continuous Mind-Communion with God.
"How shall I pray and when?" we say to you, "As you live and breathe continually, and as you are in life and love continually, so shall you be in prayer continuously." And as the air you breathe surrounds you abundantly, awaiting your need of it, so is that which you would ask for awaiting you in abundant supply; yea, even to overflowing fullness." page 87
"Realize, therefore, that prayer is not for the purpose of asking for something you wish to have. It is for the purpose of realizing that you already have what you have asked for. All power exists in the universe and is yours when you do your part in bringing it to you. (underline added)
You already have all the love of all the universe. Prove what I say to you by giving love out from you. You will find that all of the world loves you in the measure that you love the world." [Walter Russell, Home Study Course, page 91]
---
Hughes
schools on the hill of Sion—'out of Sion hath God appeared in perfect beauty.' So long as this principle was recognised in musical academies, there were composers of the highest class; devoid of it, the highest order of compositions disappeared." "Power over music does not depend solely on the mere agreement of 'how to do it.' The student in song will never learn the perfection of beauty except from the preparation of the heart. To make a real musician, there must be a sense of the ever-presence of the Creator of all beauty. The boy-musician must begin his day with prayer, and end it with praise. This made Handel, Bach, Haydn, and Mozart. Music is neither dram nor sweetmeat, neither sensual nor intellectual. It is made so now; but in this order of music there is neither joy nor love, thankfulness nor reverence." [Harmonies of Tones and Colours, Fragments from Dr. Gauntlett's Last Note-book, page 51]
---
A Course in Miracles
Reading Through the Course in Miracles, Text, Manual, and Supplements in One Year
Song of Prayer Reading for November 29, 2015 - Day 333
II. The Ladder of Prayer
S-1.II.1. Prayer has no beginning and no end. 2 It is a part of life. 3 But it does change in form, and grow with learning until it reaches its formless state, and fuses into total communication with God. 4 In its asking form it need not, and often does not, make appeal to God, or even involve belief in Him. 5 At these levels prayer is merely wanting, out of a sense of scarcity and lack.
S-1.II.2. These forms of prayer, or asking-out-of-need, always involve feelings of weakness and inadequacy, and could never be made by a Son of God who knows Who he is. 2 No one, then, who is sure of his Identity could pray in these forms. 3 Yet it is also true that no one who is uncertain of his Identity can avoid praying in this way. 4 And prayer is as continual as life. 5 Everyone prays without ceasing. 6 Ask and you have received, for you have established what it is you want.
S-1.II.3. It is also possible to reach a higher form of asking-out-of-need, for in this world prayer is reparative, and so it must entail levels of learning. 2 Here, the asking may be addressed to God in honest belief, though not yet with understanding. 3 A vague and usually unstable sense of identification has generally been reached, but tends to be blurred by a deep-rooted sense of sin. 4 It is possible at this level to continue to ask for things of this world in various forms, and it is also possible to ask for gifts such as honesty or goodness, and particularly for forgiveness for the many sources of guilt that inevitably underlie any prayer of need. 5 Without guilt there is no scarcity. 6 The sinless have no needs.
S-1.II.4. At this level also comes that curious contradiction in terms known as "praying for one's enemies." 2 The contradiction lies not in the actual words, but rather in the way in which they are usually interpreted. 3 While you believe you have enemies, you have limited prayer to the laws of this world, and have also limited your ability to receive and to accept to the same narrow margins. 4 And yet, if you have enemies you have need of prayer, and great need, too. 5 What does the phrase really mean? 6 Pray for yourself, that you may not seek to imprison Christ and thereby lose the recognition of your own Identity. 7 Be traitor to no one, or you will be treacherous to yourself.
S-1.II.5. An enemy is the symbol of an imprisoned Christ. 2 And who could He be except yourself? 3 The prayer for enemies thus becomes a prayer for your own freedom. 4 Now it is no longer a contradiction in terms. 5 It has become a statement of the unity of Christ and a recognition of His sinlessness. 6 And now it has become holy, for it acknowledges the Son of God as he was created.
S-1.II.6. Let it never be forgotten that prayer at any level is always for yourself. 2 If you unite with anyone in prayer, you make him part of you. 3 The enemy is you, as is the Christ. 4 Before it can become holy, then, prayer becomes a choice. 5 You do not choose for another. 6 You can but choose for yourself. 7 Pray truly for your enemies, for herein lies your own salvation. 8 Forgive them for your sins, and you will be forgiven indeed.
S-1.II.7. Prayer is a ladder reaching up to Heaven. 2 At the top there is a transformation much like your own, for prayer is part of you. 3 The things of earth are left behind, all unremembered. 4 There is no asking, for there is no lack. 5 Identity in Christ is fully recognized as set forever, beyond all change and incorruptible. 6 The light no longer flickers, and will never go out. 7 Now, without needs of any kind, and clad forever in the pure sinlessness that is the gift of God to you, His Son, prayer can again become what it was meant to be. 8 For now it rises as a song of thanks to your Creator, sung without words, or thoughts, or vain desires, unneedful now of anything at all. 9 So it extends, as it was meant to do. 10 And for this giving God Himself gives thanks.
S-1.II.8. God is the goal of every prayer, giving it timelessness instead of end. 2 Nor has it a beginning, because the goal has never changed. 3 Prayer in its earlier forms is an illusion, because there is no need for a ladder to reach what one has never left. 4 Yet prayer is part of forgiveness as long as forgiveness, itself an illusion, remains unattained. 5 Prayer is tied up with learning until the goal of learning has been reached. 6 And then all things will be transformed together, and returned unblemished into the Mind of God. 7 Being beyond learning, this state cannot be described. 8 The stages necessary to its attainment, however, need to be understood, if peace is to be restored to God's Son, who lives now with the illusion of death and the fear of God.
Christ Returns - Speaks His Truth
"Until you are prepared to realise and accept that your SOURCE of BEING within you, and above and around you, can indeed flow into your mind and body DIRECTLY IN RESPONSE TO PRAYER, you will be subject to all the ailments of the earthly and human consciousness." [Christ Returns - Speaks His Truth, Letter 4, page 12]
"And when I say: 'making true contact with It', I mean that the prayer of supplication for this benefit or that is not making true contact with your SOURCE OF BEING.
Your prayer is certainly received into the Source of Being, and an answer is frequently received swiftly and the need is fulfilled, even as you have asked. But true contact with the Source of your Being, is only experienced when you have sufficiently cleansed your consciousness of the gross human ego-drive and have spent some time in meditation and a regular emotionally powerful 'reaching out' in consciousness to your Source seeking contact and renewal and refreshment of spirit.
This is the true purpose behind existence. A constant and mutual reciprocation of communication between the Source of all Being and creation." [Christ Returns - Speaks His Truth, Letter 5, page 5]
OSHO
"Pray like a lover not like a beggar." [Osho]
Harvey Spencer Lewis
SOUL AND GOD CONSCIOUSNESS
Praying is not a scientific process. It is something from within that transcends material, scientific life so far beyond the horizon and limit of the sky that it is incomprehensible to science. It is a Mystical thing – something of our Soul and not of our brain, something of our inner selves and not of the outer. This mortal, carnal, flesh body has neither the right nor privilege to ask God, the Creator of all things, to do something for us in God's mercy and love.
Our body has no privilege to ask that, but the Soul within has both privilege and right. It is part of the God Consciousness. In creating humans, God said, "I make human beings in my own image." The Soul, therefore, has a right, as a part of the God Consciousness, to commune with God, and that is what prayer is. It is a communion of the inner self with the Creator. If you will look upon prayer as a communion, then your whole aspect of prayer will change. [Harvey Spencer Lewis (First Imperator of AMORC)]
---
Witches call it spells.
Christian's call it prayer.
Spiritualists call it manifestation.
Atheists call it the placebo effect.
Scientists call it quantum physics.
Everyone's arguing over it's name.
No one is denying its existence. [anon]
See Also
---
As a Man Thinketh
Consciousness
Desire
Franklin Loehr The Power of Prayer on Plants
God
Intention
Love
Masaru Emoto
Meditation
Mental Manifestation
Mind Force
Mind of God
Mind to Mind
Power of Prayer
pray
Principle of Regeneration
Radiation
Sympathy
Thought
Worry
18.06 - Thought as a thing - Cayce