"An exact science of the One visible and invisible universe of Mind and the registration of all idea of thinking Mind in light, which is matter and also energy."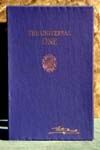 The Universal One
"For six years Dr.
Russell
labored day and night to produce the completed charts herein published and learn the language and terminology of science sufficiently to write his first epochal book, "
THE UNIVERSAL ONE
," together with the charts which he sent to about 800 of the world's leading scientists and universities, without the slightest evidence or their having received them, as heretofore stated.

"This book is now out of print but Cambridge University had a complete photostat copy made from the New York Public Library copy, and we have heard of many other photostat copies which have been made from other originals. We have also heard that a copy has been purchased for $500.00 and much more offered for one. It will not be reprinted, for my husband was not then ready to give words to that which he knew in wordless essence. [Atomic Suicide. p. xxix]
[Editor's Note:
The Universal One
is currently in print.]

A "must" for the serious student of Russell science and philosophy, The Universal One is Walter Russell's first expression of his new Cosmogony explaining the Mind-centered electromagnetic universe. Russell later revised some of the content of The Universal One in The Secret of Light and A New Concept of the Universe. Students of the Russell science should be aware of the historic sequence of Walter Russell's books of science, and note the various changes in details which Walter Russell himself made. Nikola Nikola Tesla told Walter Russell to hide his cosmogony from the world for a thousand years. Though a century or more ahead of its time, The Universal One, uniting spiritual Cause and scientifically observable Effect in a seamless whole, is now appealing to the many people - scientists and laymen alike - who are examining the nature of science and consciousness. In this 1926 historic volume, Walter Russell first reveals the possibility of transmutation of the elements. This is a universe of Mind, a finite universe, limited as to cause, and to the effect of cause. A finite universe, in which the effects of cause are limited, must also be limited as to cause; so when that measurable cause is known, then can man comprehend and measure all effects. The effects of cause are complex and mystify man, but cause itself is simple. The universe is a multiplicity of changing effects of but One unchanging cause. All things are universal. Nothing is which is not universal. Nothing is of itself alone. Man and Mind and all creating things are universal. No man can say: "I alone am I." There is but One universe, One Mind, One force, One substance. When man knows this in measurable exactness then will he have no limitations within those which are universal." Walter Russell, from The Prelude to The Universal One.
Part I: Creation; The Life Principle; Mind, The One Universal Substance; Thinking Mind; The Process of Thinking; Thinking Registered in Matter; Concerning Appearances; The Sex Principle; Sex Opposites of Light; The Reproductive Principle; Energy Transmission; A Finite Universe; A Dimensionless Universe; Concerning Dimension; The Formula of Locked Potentials; Universal Oneness; Omnipresence; Omnipotence; Omniscience.
Part II: Dynamics of Mind & Light Units of Matter; Electricity and Magnetism; New Concepts of Electricity and Magnetism; Electricity; The Elements of Matter; The Octave Cycle of the Elements of Matter; The Instability and the Illusion of Stability of Matter; The Universal Pulse; Concerning Energy; Electro-Magnetic Pressure; Attraction and Repulsion; Gravitation and Radiation; Expressions of Gravitation and Radiation - Universal Direction; Universal Mathematics & Ratios; Charging & Discharging Poles; The Wave; Time; Temperature; Color; Universal Mechanics; Rotation; Revolution; Crystallization; Plane and Ecliptic; Ionization; Valence; Tone; Conclusion; New Laws and Principles.
The Universal One Contains numerous charts and diagrams. The Universal One is both an historic and present/future treasure illuminating questions about universal cosmogony and philosophical considerations of the nature of the universe. Hard cover 266 pages, 8" x 11".
The Universal One Principles
To purchase this title click here The Universal One
Russell Images - List of images from the TUO book (and others) in the svpwiki
Table of Contents
Periodic Chart
Book 01 - Chapter 00 - Preface
Book 01 - Chapter 01 - Creation
Book 01 - Chapter 02 - The Life Principle
Book 01 - Chapter 03 - Mind, The One Universal Substance
Book 01 - Chapter 04 - Thinking Mind
Book 01 - Chapter 05 - The Process of Thinking
Book 01 - Chapter 06 - Thinking is Registered in Matter
Book 01 - Chapter 07 - Concerning Appearances
Book 01 - Chapter 08 - The Sex Principle
Book 01 - Chapter 09 - Sex Opposites of Light
Book 01 - Chapter 10 - The Reproductive Principle
Book 01 - Chapter 11 - Energy Transmission
Book 01 - Chapter 12 - This is a Finite Universe
Book 01 - Chapter 13 - A Dimensionless Universe
Book 01 - Chapter 14 - Concerning Dimension
Book 01 - Chapter 15 - The Formula of the Locked Potentials
Book 01 - Chapter 16 - Universal Oneness
Book 01 - Chapter 17 - Omnipresence
Book 01 - Chapter 18 - Omnipotence
Book 01 - Chapter 19 - Omniscience
There is But One Dynamic Force 58a - image
Book 02 - Chapter 01 - Dynamics of Mind - Concerning Light Units of Matter
Book 02 - Chapter 02 - Electricity and Magnetism
Book 02 - Chapter 03 - New Concepts of Electricity and Magnetism
Book 02 - Chapter 04 - Positive and Negative Electricity
Book 02 - Chapter 05 - The Elements of Matter
Book 02 - Chapter 06 - The Ten Octave Cycle of the Elements of Matter pages 88-90
First Four Octaves - page 89 - image
Book 02 - Chapter 07 - Instability, and the Illusion of Stability in Motion
Dimensions of the Ecliptic for all Systems 103 - image
The Six Octave Working Range 105 - image
Book 02 - Chapter 08 - The Universal Pulse - All Motion is Oscillatory
Book 02 - Chapter 09 - Concerning Energy
Book 02 - Chapter 10 - Electromagnetic Pressures
Mathematical Relations are Constant - page 125 - image
Book 02 - Chapter 11 - Attraction and Repulsion
Attraction and Repulsion 139 - image
Book 02 - Chapter 12 - Gravitation and Radiation
Book 02 - Chapter 13 - Expressions of Gravitation and Radiation - Universal Direction
Universal Direction - page 151 - image
Universal Direction - page 153 - image
Universal Direction - page 155 - image
Universal Direction - page 157 - image
Book 02 - Chapter 14 - Universal Mathematics - Universal Ratios
Area and Volume Relations and Ratios - page 163 - image
Book 02 - Chapter 15 - Expressions of Gravitation and Radiation
Book 02 - Chapter 16 - Expressions of Gravitation and Radiation - The Wave
The Wave - Page 181 - image
The Wave - page 183 - image
Book 02 - Chapter 17 - Expressions of Gravitation and Radiation
Book 02 - Chapter 18 - Expressions of Gravitation and Radiation
Book 02 - Chapter 19 - Expressions of Gravitation and Radiation
Book 02 - Chapter 20 - Expressions of Gravitation and Radiation
Book 02 - Chapter 21 - Expressions of Gravitation and Radiation
Book 02 - Chapter 22 - Expressions of Gravitation and Radiation
Book 02 - Chapter 23 - Expressions of Gravitation and Radiation
Book 02 - Chapter 24 - Expressions of Gravitation and Radiation
Book 02 - Chapter 25 - Expressions of Gravitation and Radiation
Book 02 - Chapter 26 - Expressions of Gravitation and Radiation
Book 02 - Chapter 27 - Expressions of Gravitation and Radiation
Book 02 - Chapter 28 - Conclusion
See Also
---