Degeneration, the running down, entropy, dissipation, dispersion.
Russell
"Degeneration is merely dissipation or expansion of accumulated energy into larger volume of lower pressure and potential." Russell, Russells Optic Dynamo-Generator
THE TEMPERATURE CYCLE

The temperature cycle resulting from balanced interchange between the cold of space and the heat of suns is as follows: cold generates; generation contracts; contraction heats; heat radiates; radiation expands, and expansion cools.
Thus, our hot sun is being generated from cold space via its poles and is radiated back again into space via its equator in accord with the father-mother reciprocative process of inside-out outside-in turning, and will continue to generate increasing heat in the sun until it becomes a true sphere. This spherical perfection has not yet been attained, for the sun has not yet reached the amplitude of its wave where all forming matter becomes true spheres.
ONE OPPOSITE BORNS THE OTHER

When the amplitude position is attained, its radiation will then begin to exceed its generation. It will be in the same condition as a man who has just passed his maturity high point when death and life interchange their preponderances.

From that point on, cold space will bore a black hole through the sun from pole to pole and it will expand into a giant ring centered by a smaller sun recondensed from the remnant of its expanding self. Many such ring nebulae are visible in the heavens, notably in the Lyra Ring Nebula (M. 57). (Fig. 61 pg. 252).
THE STARS TELL THE WHOLE STORY

Excellent examples of the degeneration of a sun into a ring or rings by the inside-out turning process of negative electricity are The Owl Nebula, (M. 97) in Ursae Majoris and the Dumb Bell Nebula in Vulpeculae. (Fig. 62 pg. 252).
One can likewise witness this inside-out turning process in his kitchen range. Jets of burning gas are seen as a blue and green flame around black holes which center each jet. These gases are negatively preponderant, which means that they are thrusting out from their center in excess of pulling inward from it. [Walter Russell, The Secret of Light, pages 188-189]
---
Viktor Schauberger's Microscope Evidence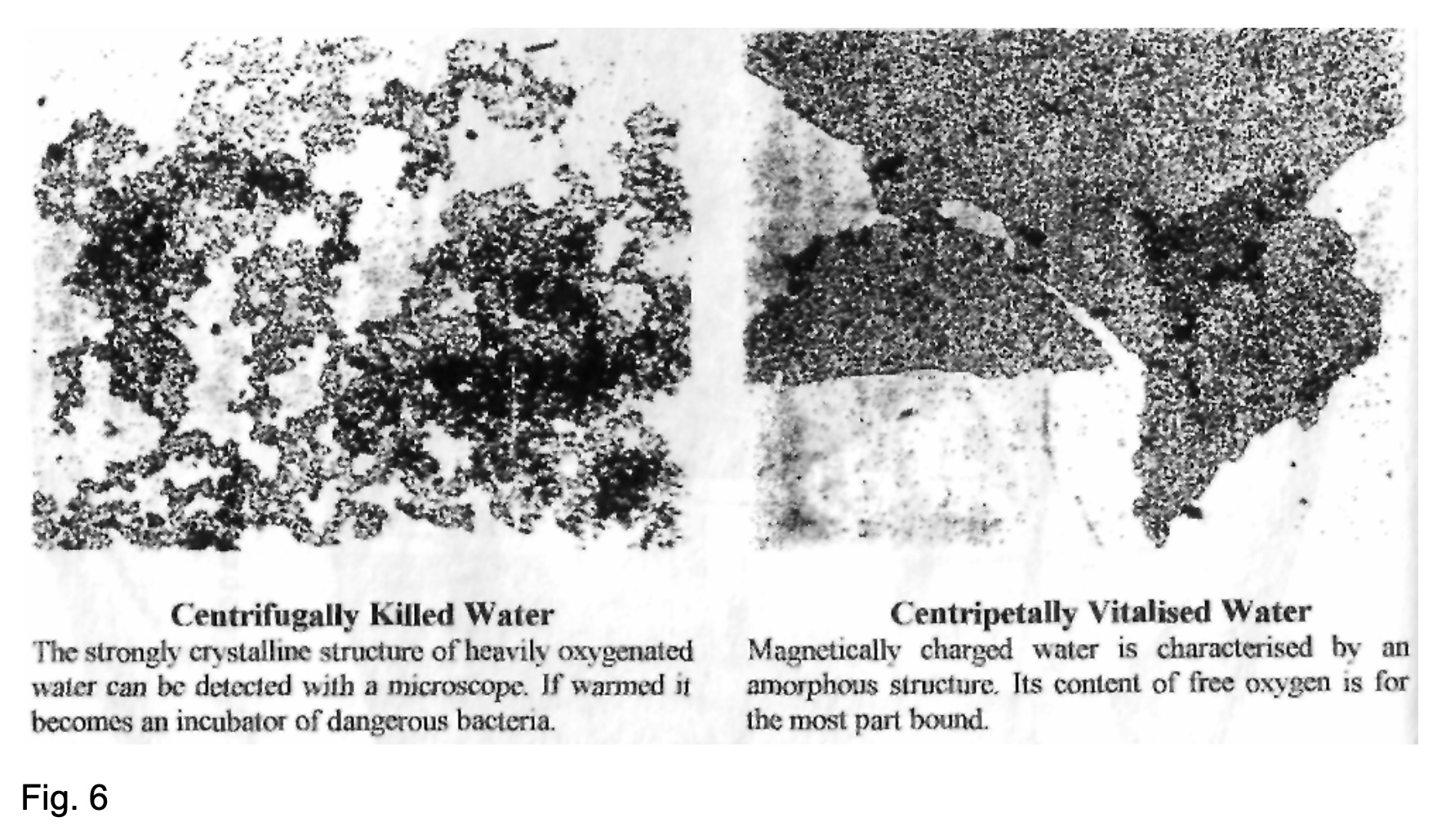 Biomagnetism is quality. Its adversary is all forms of over-illumination, over-heating or centrifugally engineered increase in pressure. In this case bio-electricity is produced, which, in the form of an atomic force of excess pressure, possesses energies that function electrolytically and over-acidify, decompose and kill all forms of life and growth. In the light of this, the deterioration of rivers and lakes becomes quite understandable. Since biomagnetism is quality, it follows that there is no constant conservation of energy in the presently accepted sense. There is likewise no equivalence between mass and energy and no insuperable force of gravity within the atmospheric envelope. All there is, is a rhythmical interplay between bipolar component forces, which ultimately inaugurates the final degeneration. In their interactive function as atomic pressural or suctional forces and through the biological vacuum thereby created, they also produce the best and cheapest driving force for machines. [The Energy Evolution - Harnessing Free Energy from Nature, The Biological Vacuum - The Optimal Driving Force for Machines]
See Also
---
5.8 - Degeneration of Mass
death
decay
decompose
degeneration
Entropy
Figure 5.10 - Introductory Degeneration of Mass via Interpenetrating Vortices
Generation
Law of Cycles
Principle of Regeneration
Regeneration
retrogressive
Syntropy