"Keely proved to his own satisfaction that by the dissociation of hydrogen he had imprisoned the ether5."
"Keely pursued for and found the subtle etheric vapor to be the medium of nature's most powerful agent, the TRIUNE POLAR FLOW, which he has harnessed for aerial navigation."
"Keely's speculations, in the field of acoustics, led him into that great unknown tract which lies beyond the horizon of ordinary matter. It was in subjecting water to the action of multiplied vibrations in a machine which he called a hydro-pneumatic-pulsating-vacuo engine that his lever suddenly registered a pressure of two thousand pounds." [Aerial Navigation, 1894]
5 If ether (in Keely's terminology) is "dissociated Hydrogen" then we can safely assume ether is a mixture of electrons and protons because those are the only "particles" contained in Hydrogen EXCEPT for the indisputable fact that electrons and protons are composed of even smaller objects (photons, quarks, etc.) hense we must acknowledge there are many types or kinds of tenuous ethers of differing densities, wave structures, energy states and configurations.
Figure 15.02 - Keely's Hydro-Pneumatic-Pulsating-Vacuo Engine operated with etheric vapor.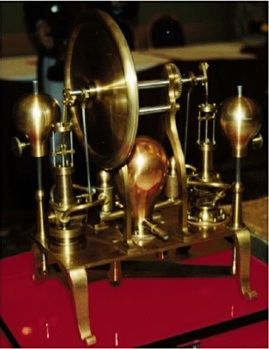 Click here for more photos of this device.
Click here for history and patent.

See Also
---
15.02 - Liberating Ozone from Water
15.03 - Questions Concerning Dissociation
15.04 - Dissociating Water with Fire
15.05 - Relative Diameters in Dissociation
15.06 - Power of Dissociated Water
15.07 - Dissociating Process
15.08 - Dissociating Water with X-Rays - Radiolysis
15.09 - Dissociating Water with Ultrasonic Vibration - Puharich
15.10 - Dissociating Water with Alternating Current - Puharich
15.11 - Dissociating Water with Vacuum
15.12 - Dissociating Water with Acoustic Cavitation
15.13 - Dissociating Water Acoustically - Liberation of Quantum Constituents
15.14 - Dissociation Liberates Spontaneous Energy
15.15 - Progressive Dissociation
15.20 - Dissociation Frequency
15.21 - Water Dissociation Demonstration
Atomic Clusters
Compound Interetheric
Etheric Elements
Ether
Etheric
Etheric Force
Interetheric
Mind Force is a pre-existing Natural Force
omnipresent gravity control
Plasma
Subdivision