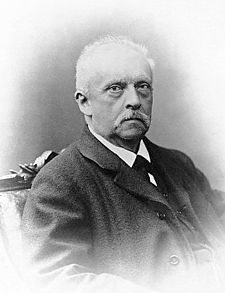 Hermann Ludwig Ferdinand von Helmholtz
(August 31, 1821 – September 8, 1894) was a German physician and physicist who made significant contributions to several widely varied areas of modern science. In
physiology
and
psychology
, he is known for his mathematics of the eye, theories of vision, ideas on the visual perception of
space
,
color
vision research, and on the sensation of
tone
, perception of
sound
, and empiricism. In
physics
, he is known for his theories on the
conservation of energy
, work in
electrodynamics
, chemical thermodynamics, and on a mechanical foundation of
thermodynamics
. As a philosopher, he is known for his philosophy of science, ideas on the relation between the laws of
perception
and the
laws
of nature, the science of aesthetics, and ideas on the civilizing power of science. The largest German association of research institutions, the
Helmholtz Association
, is named after him.
Helmholtz, Wikipedia
---
Ramsay
"Helmholtz falls into a mistake when he says- "The system of scales and modes, and all the network of harmony founded on them, do not seem to rest on any immutable laws of Nature, but are due to the aesthetical principle which is constantly subject to change, according to the progressive development of taste." It is true, indeed, that the ear is the last judge; but the ear is to judge something which it does not create, but simply judges. Nature is the maker of music in its scales and modes. The styles of composition may vary with successive generations, and in the different nations of men; but the scientific basis of music is another thing. It is a thing, belonging to the aesthetic element of our being and our environment; it is under the idea of the beautiful, rather than the idea of the useful or the just; but all these various aspects of our relation to creation have their laws which underlie whatever changes may be fashionable at any period in our practice. If the clang-farbe of a musical tone, that is, its quality or timbre, depends on the number and comparative strength of the partial tones or harmonics of which it is composed, and this is considered to be the great discovery of Helmholtz, it cannot be that the scales and modes are at the caprice of the fickle and varied taste of times and individuals, for these partials are under Nature's mathematical usages, and quite beyond any taste for man's to change. It is these very partials or harmonics brought fully into view as a system, and they lead us back and back till they have brought us to the great all-prevading law of gravitation; it is these very partials, which clothe as an audible halo every musical sound, which constitute the musical system of sounds. [Scientific Basis and Build of Music, page 78]
---
Hughes
Helmholtz's experiments on developing colours shown to agree with the scheme
—The sounds of the Falls of Niagara are in triplets or trinities
—The Arabian system divides tones into thirds
—Two trinities springing from unity apparently the germ of never-ending developments in tones and colours
—Inequality of the equinoctial points; is the want of equilibrium the motive power of the entire universe?
—The double tones of keyed instruments, the meetings by fifths, the major and minor keys, so agree with the development of colours, that a correct eye would detect errors in a piece of coloured music
—Numbers not entered upon, but develope by the same laws
—Bass notes omitted in order to simplify the scheme, 18 [Harmonies of Tones and Colours, Table of Contents2 - Harmonies]
being also a complementary pair, would produce white, as experimentally proved by Helmholtz. [Harmonies of Tones and Colours, The Arabian System of Music, page 21]
See Also
---
Ether - Helmholtz
Helmholtz Resonator
Ramsay - The Nature and Origin of Difference Sounds