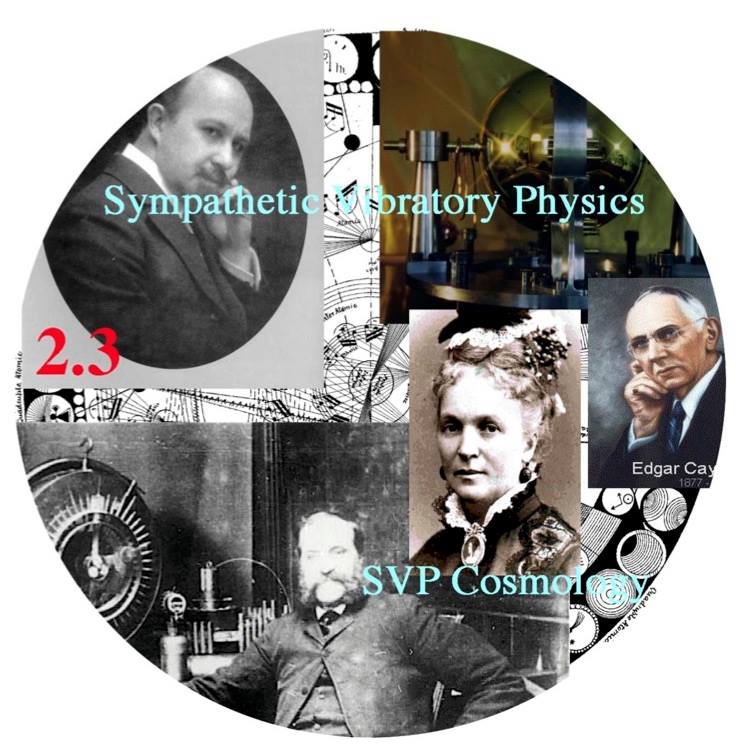 Current version is 2.3. Updates are issued on an irregular schedule. The
SVP Cosmology
contains a broad overview of
SVP
and is delivered by ground mail on CD. Included with the purchase is a life-time
subscription
to the
SVPwiki
and all future updates.
The SVP Cosmology is more fully detailed and can be ordered here:
SVP Cosmology 2.3
SVP Cosmology - see Table of Contents
Did you ever wonder what John Worrell Keely was really doing or how he did it? How about Walter Russell? What were they really saying in their writings and beautiful art? So have I wondered. And this wonder caused me to set out many years ago (in 1984) to study their writings and what others wrote about them and sort it all out that we might understand and eventually apply their vast knowledge to solutions for our time.
This unique product is a result of all those years of research, study, contemplation and work. One person described this work as "massive". The CD contains over 900 pages of materials if printed out. The SVP Cosmology is profusely illustrated with over 450 graphics, tables and images. Includes Dale's Etheric Vibratory (emf) Table with sixteen fields of correspondences and frequency data from 1st to 69th octaves on 122 pages. There is nothing like this table out there. All this and more to carefully sort through, organize, illustrate, review and explain what Keely, Russell, Cayce, Lewis and countless others had to say about a fresh new (for most of us) comprehensive paradigm that binds and bridges many fields of science, mathematics, music, philosophy, religion and art not only in jargon and understanding but also through Time and Space. Also included are 58 ebooks of support reference materials (See List of Titles).
This product is in digital format because it will be more or less regularly updated from time to time. It is a work that perhaps may never be completed. Therefore when you purchase this product you will receive all the files and addenda available as of your purchase date. This is a lifetime of work but there is more coming! We're not done yet! Dale Pond
TESTIMONIAL by Jerry Williams
Jerry Williams
10-29-2008
To All it Interests and Concerns regarding the new SVP Cosmology,
History teaches us that much of what individual men discover winds up following him to the grave being never passed to humanity. Many other men have come and seen great things and have had deep profound insights both in the sciences and arts. Much of the best that these disciplines of art and science have brought forth stands the test of time such as the productions of the great works in the arts, and for some great men of the past, new understandings of the sciences given to us in the form of writings, drawings, and processes. Some men's ideas are simple for others following in their footsteps to later appreciate and or to unfold and embrace. Most authors, artists, and scientists with their knowledges are embraced by the main stream and continue to live through their contributions. Other contributors, however great in their abilities to see new visions and horizons for the applied sciences for man's gains, are not embraced by the main stream often times due to their ideas being too revolutionary and advanced that men cannot yet embrace them. Most usually due to man's inability to comprehend these advanced sciences coming in to early assimilation to the matrix of man's understandings. These men may have had more to contribute to the present and future understandings of the nature of the universe than the applied sciences we use today.
Much rarer in history someone comes along and dedicates themselves and their life to the re-foldment of some lost great work. Let alone the enfoldment of several great works together. Such is the case with Dale Pond's life achievement of the vast knowledge base contained within the SVP Cosmology (svpwiki.com)! My purchase of this new vast library of holistic physics has opened my mind to the possibilities of not just reading about the hidden and misunderstood masters that have preceded my generation, it has opened the gate to understanding them, and applying their sciences to the world we live in. I feel like I have been granted a peek at the works in the lost Library of Alexandria! So much knowledge, so well cross referenced. Not only do I find it laid out into a well referenced understandable index, it's chapters bring the insights of many great minds and what they said together, in a form I can assimilate and understand and use. Great seers, scientist, authors such as Walter Russell, John Worrell Keely, Edgar Cayce, Buckminster Fuller just to name a few! Its like attending a small focused conference with these masters and I get to be the chair person and lead the course of topics and discussion as I feel it's best!
With this tool, a new adventure awaits anyone interested in how the universe works, what these men saw, and possibly thinking of how we want to apply this new knowledge to our world. To Dale Pond, thank you so very much. You have achieved the perfection of being one whom has blessed my world with a tool of cooperate knowledge I know I couldn't duplicate in a life time of personal reading and researching. You have freed me from a prison of being the science gatherer of lost knowledge to one whom can now begin to experiment and apply these arts of lost and misunderstood knowledge.
Again, Thanks so very much for new freedom,
Jerry Williams, Fellow scientist