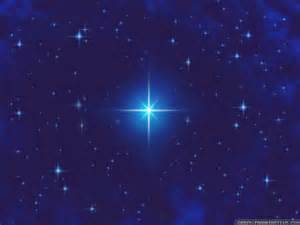 A Star in the Darkness
"The sign of
Christmas
is a star, a
light
in
darkness
. See it not outside yourself, but shining in the
Heaven
within, and accept it as the sign the time of
Christ
(
awakening
) has come." [
A Course in Miracles
, T-15.XI.2.]
Q) May we have a Christmas message from the Master at this time? A) Let not your hearts be troubled, neither let them be afraid. For the Lord is in the Holy Temple - let the earth and those that love the Lord rejoice, that the Father-God in the Christ is mindful of men, and He will not let thy loved ones - nor those with and for whom ye pray - be tempted beyond that they are able to bear." [Cayce (5758-1)]
Q) Will you give a Christmas Message to be sent to those on the prayer list? (A) "Dearly Beloved: As the Season of Joy comes, that came to the world through the gift of the Child, the Christ, to the world, may we - as those that have such as our purpose - give to thee that blessing which comes to all that seek to be a channel of blessings to others!" [Cayce (281-22)]
7.(Q) We would appreciate a Christmas message to be sent to those we are aiding.
(A) COME! LET US MAKE A JOYOUS NOISE UNTO THE LORD, THE ROCK OF OUR SALVATION: WHO IN TIMES PAST AND IN THE PRESENT MAKES KNOWN THE JOYOUS MESSAGE UNTO THE SONS OF MEN: FOR THERE IS ALIVE THIS DAY THE CHRIST SPIRIT THAT CAME AS UPON THE WINGS OF THE ANGELS, THAT MADE KNOWN THE GLAD TIDINGS UNTO THE MEN IN THAT FAR LAND. HE IS NOT FAR AWAY TODAY! BUT IN "THINE OWN HEART" MAY WE HEAR THAT VOICE COME TO US AND SAY, "PEACE - BE STILL! IT IS I, FEAR NOT: FOR I, THY SAVIOUR, AM WITH THEE THIS DAY." [Cayce (281-14)]
4. As ye approach the Season that to every student of Christian thought means so much, know that the birth of the Christ-Child in Jesus has meant and does mean more and more in the thought and the activity of the world as a whole. And you each here may judge within yourselves as to whether the world is growing better or not according to that conviction, that feeling within thine own self that what the Christ-mass or Christmas spirit means is being manifested in thy daily life and thy associations with thy fellow men.
5. For unless this fact is a personal experience, then to you - as an individual - it is not being accomplished.
6. But you each here, with only few exceptions (and these ye know within thine own hearts), feel that the peace within - as comes from the meditating upon the desire to be what the Father-God would have thee be through the promises in the Christ-Jesus - IS making thy life, thy associations with thy fellow man, more and more in keeping with the Christmas spirit; that commandment as He gave, "A new commandment give I unto you, that ye love one another, even as I have loved you." [Cayce (262-116)]
GC: You will have before you the members of the Norfolk Study Group #1 who have gathered here seeking a reading which will give them a better understanding and deeper appreciation of the birth of Jesus, the Christ, which will be celebrated this week as Christmas 1936.
EC: "In giving to these, then, that seek to know more of that circumstance, those conditions as surrounded that ye call the first Christmas: Do not confuse thyselves. While to you it may be a first Christmas, if it were the first then there would be a last; and ye would not worship, ye would not hold to that which passeth.
For time never was when there was not a Christ and not a Christ mass." [Cayce (262-103)]
"Then, if ye would make this Glad Season of effect in thine own experience, show forth THAT LOVE in thy dealings, in thy relationships, in thine words, in thine acts. For as He gave, "As ye do it unto the least of these, my brethren, ye do it unto me." Not, then, that self may be well-spoken of. Not that there may be this or that of thine own convenience, of thine own satisfaction. But that the Glory of God may be manifested among the sons of men! In this manner, then, ye may know the Glory of the Father, of the Son, at this Glad Christmas Time. For, "As ye abide in me and I in the Father, so may the Glory of the Father through thee be made manifest in the experience of thy brethren." [Cayce (262-91)]
---
"There remains then this explanation, which is the most probable one, and held by most scholars in our time: the choice of December 25 was influenced by the fact that the Romans, from the time of Emperor Aurelian (275), had celebrated the feast of the sun god (Sol Invictus: the Unconquered Sun) on that day. December 25 was called the "Birthday of the Sun," and great pagan religious celebrations of the Mithras cult were held all through the empire. What was more natural than that the Christians celebrate the birth of Him Who was the "Light of the World" and the true "Sun of Justice" on this very day? The popes seem to have chosen December 25 precisely for the purpose of inspiring the people to turn from the worship of a material sun to the adoration of Christ the Lord. This thought is indicated in various writings of contemporary authors." [Francis X. Weiser, Handbook of Christian Feasts and Customs (New York: Harcourt, Brace and World, Inc., 1958)]
See Also
---
Awakening
Christ awareness
Christ Consciousness
Christ Letters - Letter 1
Christ Letters - Letter 2
Christ Letters - Letter 3
Christ Letters - Letter 4
Christ Letters - Letter 5
Christ Letters - Letter 6
Christ Letters - Letter 7
Christ Letters - Letter 8
Christ Letters - Letter 9
Christ marriage
Christ Returns - Speaks His Truth
Christ
Christian Science
Christian
Christianity
Christmas
Christs Letters
Enlightenment
God
Jesus
Mind of Christ
Mind of the Christ
Some Truths about Keely
truth
Truth as Force
TRUTH OF EXISTENCE
18.20 - Mind - the focus of Christianity