Believe it or not John W. Keely was placed in an unmarked grave! This is amazing considering none other than John Jacob Astor was reported to be one of his pallbearers! The exact location is [West Laurel Hill Cemetery] located at 215 Belmont Avenue, Bala Cynwyd, Pennsylvania. Bala Cynwyd is part of greater Philadelphia. The burial plot is number 313 of River section. We set out to remedy that...
In 1988, ten years before the 100th anniversary of Keely's passing, I resolved to raise the funds for a monument and place it on his grave on November 27, 1998. As the years went by my attempts to raise the funds all failed. No one contributed a single dime. Neither was I able to raise the funds myself. A date was set to be able to get this done - we would have the monument engraved and to leave Tulsa about 4 days prior to the "dead line". I would have to get the monument and leave by that date or this could not happen. As I sat at my desk counting down the time to the departure date it became obvious this was not going to happen. At that moment I gave in and said to myself it is over this is not going to happen. So I gave up in my effort to do this. Strange as it sounds not a minute passed before there was a knock on the door. It was Jim from Oklahoma City about 1 1/2 hour drive. When I asked him why he was here he said "Spirit told me to come talk to you. Let's go have lunch. I'm buying." On our drive to the restaurant he asked what was up? I told him of my now failed plan to place a monument on Keely's grave. That I had arranged the making of the monument, reserved a meeting with the cemetery people, etc. All failed. Jim reaches into his shirt pocket and hands me his credit card. "Get it done" he said. "We'll take the monument to Pennsylvania and get it laid on Keely's grave." Can you imagine what terrific thoughts went through my mind? After lunch I called to have the monument engraved and notified the cemetery we would be arriving on the date previously agreed upon. Jim and I joked all the way across the country we were the Blues Brothers on a mission from God - which what it felt like. We got it done. Thank you, Jim!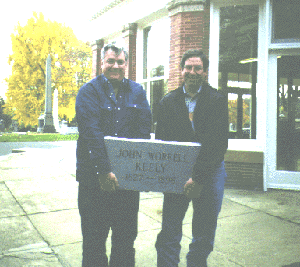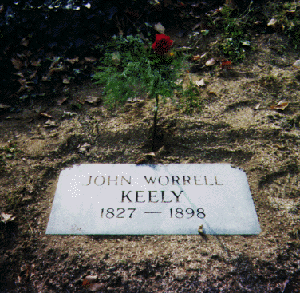 This small stone is now a footer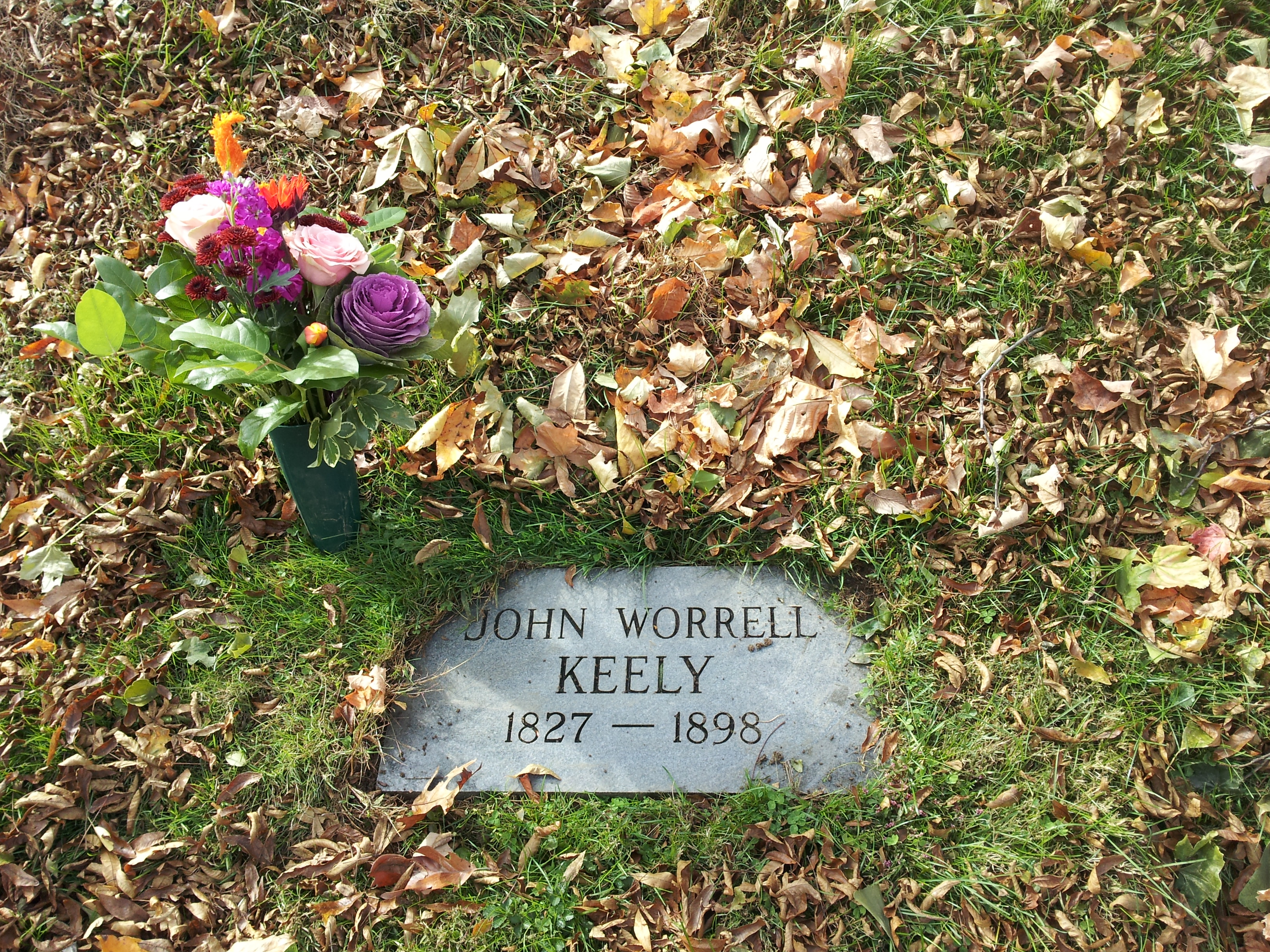 This small stone is now a footer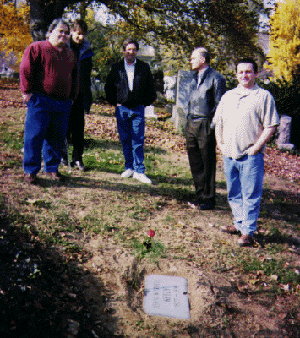 Some of the curious who came to see the stone.

We had a wonderful visit and discussed Keely for several hours.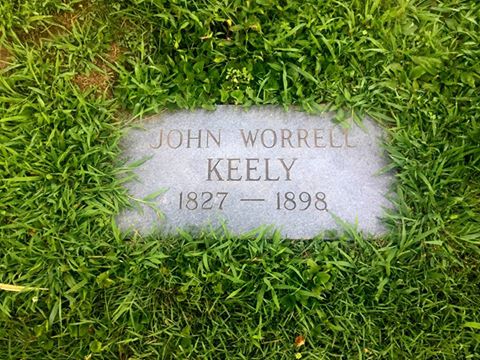 See Also
---
Chronology
Keely
Keely Chronology
Keely Death Certificate
Keely - Historical Documents
Keely Obituary
Keely The Inventor Dead
Keelys Last Will and Testament
Keelys Motor in Boston
Keelys Personal Estate
Inventor Keelys Will Filed
Obituary
Post Obituary
Was Keely a Fraud