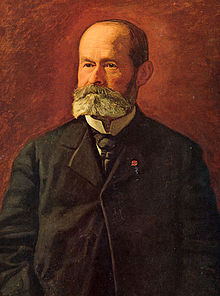 Daniel Garrison Brinton (May 13, 1837 - July 31, 1899) was an American archaeologist and ethnologist. Brinton was born in Thornbury Township, Chester County, Pennsylvania. After graduating from Yale University in 1858, Brinton studied at Jefferson Medical College for two years and spent the next travelling in Europe. He continued his studies at Paris and Heidelberg. From 1862 to 1865, during the American Civil War, he was a surgeon in the Union army, acting during 1864-1865 as surgeon-in-charge of the U.S. Army general hospital at Quincy, Illinois. Brinton was sun-stroked at Missionary Ridge (Third Battle of Chattanooga) and was never again able to travel in very hot weathers. This handicap affected his career as an ethnologist.
After the war, Brinton practiced medicine in West Chester, Pennsylvania for several years; was the editor of a weekly periodical, the Medical and Surgical Reporter, in Philadelphia from 1874 to 1887; became professor of ethnology and archaeology in the Academy of Natural Sciences in Philadelphia in 1884; and was professor of American linguistics and archaeology in the University of Pennsylvania from 1886 until his death.
He was a member of numerous learned societies in the United States and in Europe and was president at different times of the Numismatic and Antiquarian Society of Philadelphia, of the American Folklore Society, the American Philosophical Society, and of the American Association for the Advancement of Science. Wikipedia, Daniel Brinton
---
Brinton spent much time with Keely in his laboratory learning Keely's science. He authored the Laws of Being in an attempt to understand the basics of Keely's science. Which paper was included in Bloomfield-Moore's 1893 book Keely and His Discoveries as Keelys Physical Philosophy.
---
Bloomfield-Moore
"The brain of an Aristotle was needed to discern and grasp Keely's meaning to interpret and define it. Dr. Brinton never touches a subject without throwing light upon it, and his penetrating mind perceived the ideas to be defined in all their relations. His keen logical acumen separated and classified them in their order, in a true, sound, and scientific manner. In the words of Sir James Crichton Browne, who heard Professor Brinton read this abstract in London, "Professor Brinton's synopsis is an able, lucid and logical paper." [Bloomfield-Moore, Progressive Science]
---
Read here where Keely writes to Professor Brinton saying his abstract "Laws of Being" is correct.

See Also
---
Keelys Laws of Being
Keelys Letter to Professor Daniel Brinton <-
Laws of Being
Laws of Being - Annotated
LAWS OF MOLECULAR BEING
Letter from Bloomfield-Moore to Brinton <-
The Laws of Being
Three Laws of Being
14.09 - Brintons Laws of Being