Music
"The working out or development of a subject, e.g., the notes of a scale."
[A Dictionary of Musical Terms]
The
evolution
of a music
scale
from the
fundamental
or
keynote
to and through the higher
partials
or
harmonics
. See
Progressive Evolution
,
Overtone Series
"The action of the
magnetic flow
is dual in its
evolutions
, both
attractive
and
propulsive
. The
inclination
of the
plane
on which the subtle stream moves, either to the right or to the left, has nothing to do with
positive
or
negative
condition. The difference in conditions of what is called, by electricians,
positive
and
negative electricity
, is the difference between
receptive
and
propulsive vibrations
. They can be
right
or
left receptive
, or
right
or
left propulsive
. The
positive vibrations
are the radiating; the
negative vibrations
are the ones that are attracted toward the
neutral centre
." [
Vibratory Physics - The Connecting Link between Mind and Matter
]
"The development of his various discoveries has been one uninterrupted work of
evolution
, reaching, within the last year, he thinks, the sphere of perfect
vibratory sympathy
, both theoretically and practically. The proof of this is found in the fact that he now transmits vibrations along a
wire
, connected at one end with the vibratory machine which is the source of power and at its other end with the engine or
cannon
, as the case may be, which is operated by such vibratory power. Until recently
Keely
stored force, as he generated it, in a
receiver
, and experiments were made by him in the presence of thousands at various times for the purpose of testing the operations of this force, liberated in the presence of the audience and stored up in this small
receiver
." [
KEELYS SECRETS - 1888
]
---
"As man applies the laws of which he becomes conscious, the development of man brings forth those results merited by that knowledge...This we find, then is evolution. Man's development through man's acquiring, man's understanding of spiritual laws, of earthly laws, of God's laws, and applying same."
Cayce
(900-70)
"Evolution by degrees is the perfect description of the supreme achievement of the ego. That keeps you in a constant state of allowing yourself to believe that there is a goal just around the corner as opposed to the recognition that if you are the perfect creation of the Father, what could there be to evolve into except the memory of it and memory is instantaneous."
[
Dialogue on Awakening
]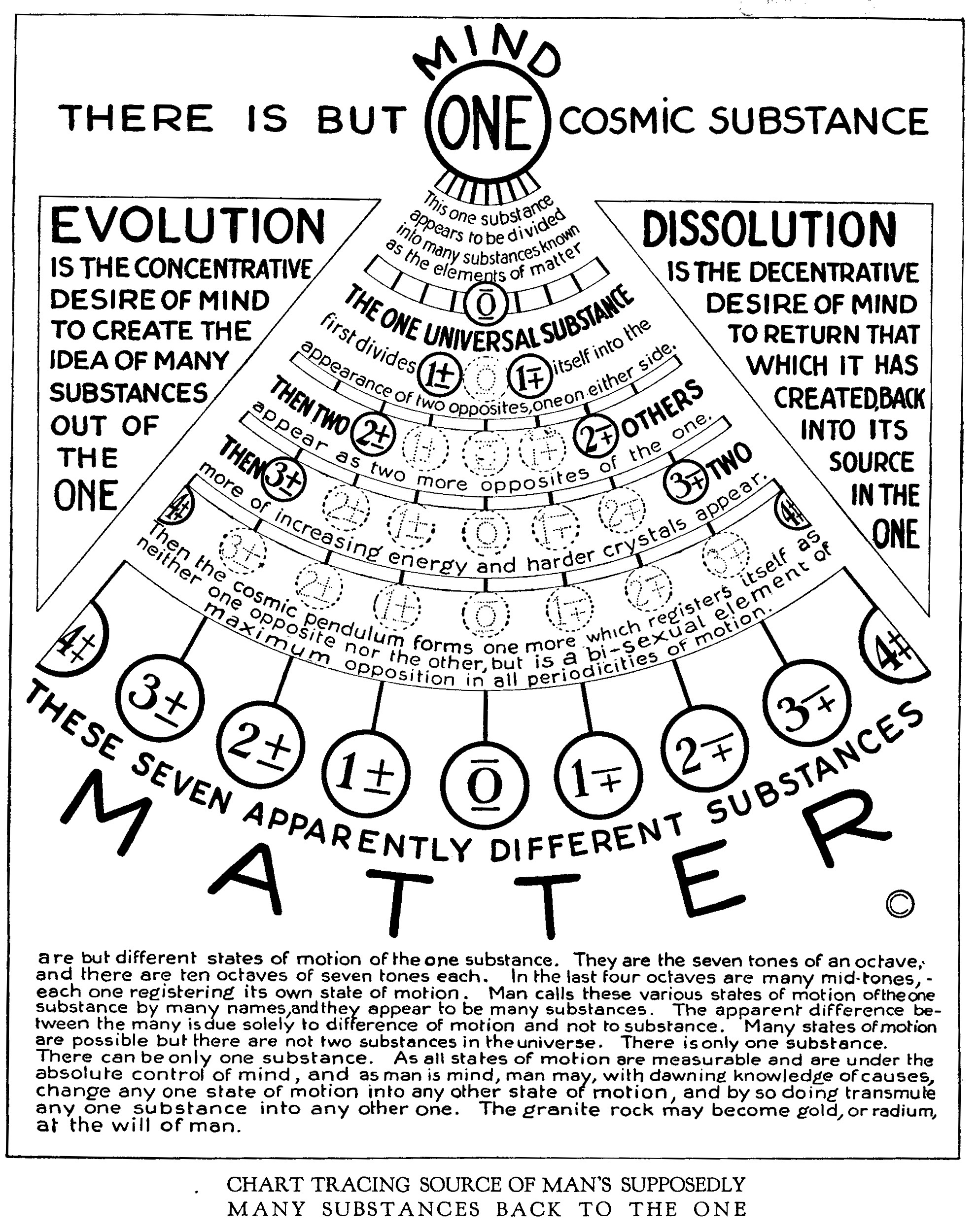 Mind - the One Cosmic Substance
(courtesy University of Science and Philosophy)
(click to enlarge)

See Also
---
Dissolution
Overtone Series
Progression
Progressive Evolution
revolution
1.20 - Evolution and Devolution of Frequency
12.38 - Orbital revolution