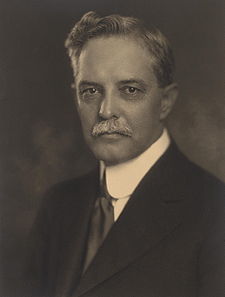 Dayton Clarence Miller (March 13, 1866 - February 22, 1941) was an American physicist, astronomer, acoustician, and accomplished amateur flautist. An early experimenter of X-rays, Miller was an advocate of ether theory and absolute space and an opponent of Albert Einstein's theory of relativity.
Born in Ohio to Charles Webster Dewey and Vienna Pomeroy Miller, he graduated from Baldwin University in 1886 and obtained a doctorate in astronomy at Princeton University under Charles A. Young in 1890. Miller spent his entire career teaching physics at the Case School of Applied Science in Cleveland, Ohio, as head of the physics department from 1893 until his retirement in 1936. Following the discovery of X-rays by Wilhelm Röntgen in 1895, Miller used cathode ray tubes built by William Crookes to make some of the first photographic images of concealed objects, including a bullet within a man's limb. Active in many scientific organizations, Miller was a member of the American Academy of Arts and Sciences and the American Philosophical Society. During the 1920s, he served as secretary, vice president, and president of the American Physical Society and as chairman of the division of Physical Sciences of the National Research Council. From 1931 to 1933 he was president of the Acoustical Society of America. Dayton Miller, Wikipedia
Books
The Science of Musical Sounds - Miller investigates vibration, sound, music and ether. Very good work.
See Also
---