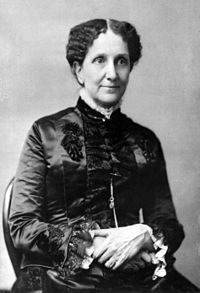 Mary Baker Eddy (July 16, 1821 – December 3, 1910) was the founder of Christian Science, a new religious movement in the United States in the latter half of the 19th century.
Eddy wrote the movement's textbook Science and Health with Key to the Scriptures (first published 1875) and founded the Church of Christ, Scientist in 1879. She also founded the Christian Science Publishing Society (1898), which continues to publish a number of periodicals, including The Christian Science Monitor (founded in 1908). She was a student of Phineas P. Quimby and worked with him for a number of years.
Wikipedia, Mary Baker Eddy
"
Mary Baker Eddy
, the Illuminate of the last century, advanced the human race intellectually in that respect more than any other being who has ever lived since the days of the Nazarene." [
Walter Russell
,
Chapter 9 - The Mind Nucleus of the Atom - I, page 188
]

Mrs. Eddy once declared, "I must know that the definition of man in Science and Health applies to me. I am that spiritual man; I am God's image and likeness, reflecting a full, perfect image of Life, Mind, action, etc., not under material laws or limitations."​ ​ [ Mary Baker Eddy,​ ​ (Carpenter, Gilbert, 500 Watching Points, #143)]

THE QUIMBY-EDDY CONTROVERSY
Mary Baker Eddy Science Institute
Science and Health with Key to the Scriptures, 1910 edition, which is in the public domain.
Christian Science web site
Books
Retrospection and Introspection
Rudimental Divine Science - No and Yes
Science and Health with Key to the Scriptures
Unity of Good
See Also
---
Anthony J Whitehouse see also http://www.supportinprayer.com/
Belief
Healing
Mind
Mind Force
New Thought
Quimby