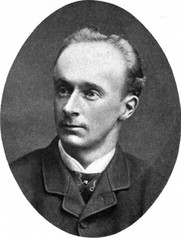 William Wilberforce Juvenal Colville
(click to enlarge)
William Wilberforce Juvenal Colville
, (1862-1917) Writer, mystic, teacher, traveler and close friend of
John W. Keely
.
Colville
had been the Grand Master of the
Pennsylvania Masonic Lodge
.
It was to Colville John Keely entrusted his Forty Laws which Colville included in his Dashed Against the Rock, 1894.
Additional Bibliography
Additional Biography
---
Colville, W. J. (William Juvenal), 1862-1917. John Worrall sic Keely: a memorial address, delivered Sunday, Nov. 27, 1898, in Casino Hall, Thirteenth Street and Girard Avenue, Philadelphia, Penn. / by W.J. Colville. - Boston: Banner of Light Publishing Co., 1899.
---
Books
---
A History of Theosophy
Ancient Mystery and Modern Revelation, 1910
Atlantis
Dashed Against the Rock, 1894
Glints of Wisdom
Humanity's True Judges
Law of Correspondences
Life and Power from Within
New Ideal of the Christ
Old and New Psychology
One With Accord
Onesimus Templeton
Our Places in the Universal Zodiac
People's Handbook of Spiritual Science
Short Lessons in Theosophy
Spiritual Echoes from Holyrood
Spiritual Science of Health and Healing
Spiritual Therapeutics
Stepping Stones to Health
Students' Questions on Spiritual Science, 1914, The Power Book Company.
Studies in Theosophy, Historical and Practical
The Newest of New Women
The Throne of Eden, 1902, The Banner of Light Publishing Company
Universal Spiritualism, 1906, R. F. Fenno & Company
World's Fair Text-Book of Mental Therapeutics